WEC Lines connects NW-Europe with Morocco via France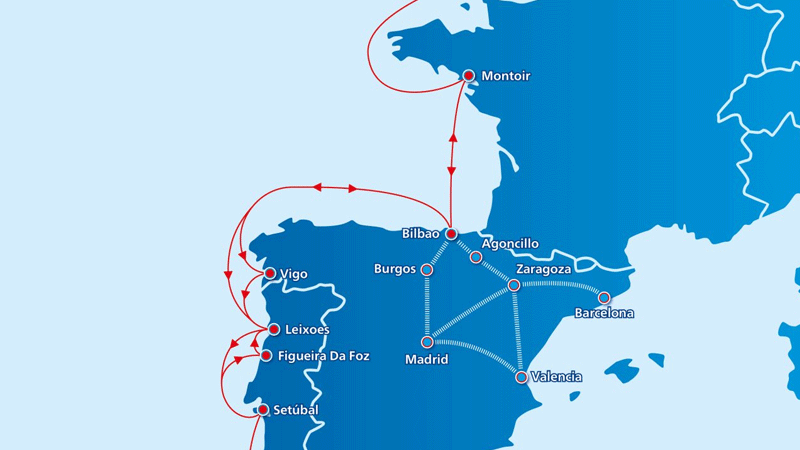 WEC Lines is proud to introduce a transformative weekly service connecting the United Kingdom, France and Northwestern Europe with Casablanca, Morocco in a seamless operation.
WEC Lines has launched the new 'Euro-Maroc service', thereby replacing the existing NWC Iberia and MOPT services. With this new offering, WEC Lines establishes a direct sailing route from Rotterdam and Antwerp to Casablanca, while also facilitating seamless transportation from Portugal and Spain via Montoir, France as from September 19, 2023. By departing from Montoir on Tuesday and arriving in Thamesport on Thursday, this service offers an eco-friendly alternative to truck transport from West France into England. Montoir will be called twice a week Northbound and Southbound.
The ports of call for this new service include Thamesport, Rotterdam, Antwerp, Montoir, Bilbao, Vigo, Leixões, Setubal, Casablanca, and Figueira da Foz, forming a well-connected bridge between these vital trade hubs. The new weekly service will be performed by 3x 800-TEU vessels in a 21-day fixed day rotation, with optimal short sea and hinterland linkages, provide customers with a heightened level of flexibility and efficiency.
"We pride ourselves to be true specialists in our geographical areas combined with a personal approach. We understand the customers' needs and value direct contact, and ease to do business with", stated Caesar Luikenaar, Managing Director of WEC Lines. "The launch of the Euro – Maroc service underlines this dedication and commitment to meeting customer demand."