SCZONE discusses the green hydrogen projects with Maersk & Siemens Energy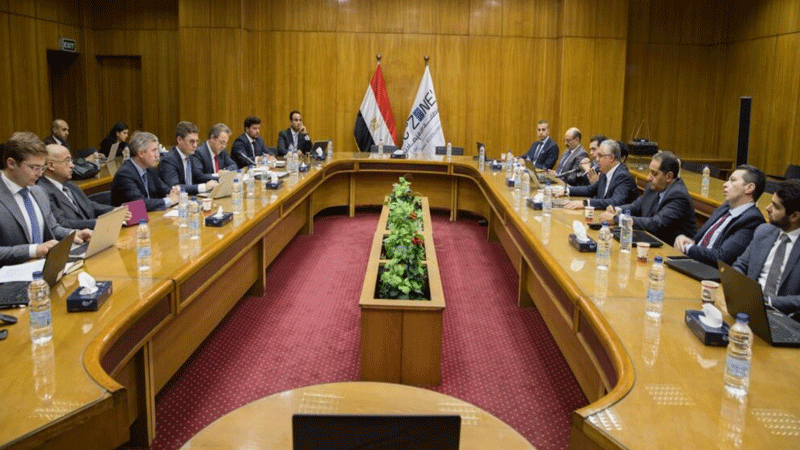 Waleid Gamal Eldein, SCZONE Chairman met, Mr. Kay Fischner, Head of Strategic Decarbonization Projects at Maersk, and Eng. Layla El Hares, Vice Chairman and Managing Director – Siemens Energy in Egypt, And Mr. Hany ElNady, Representative of Maersk Group Egypt, with a delegation that includes some technical expertise from the two sides, As a continuation of the cooperation between SCZONE and Maersk Group and its subsidiaries operating in Egypt, to discuss localisation of the green hydrogen industry and its complementary industries. The meeting discussed the framework of the feasibility studies carried out by the companies in preparation for signing the final contracts in cop27 summit, to implement the pilot phases for the projects.
"SCZONE provides full support to the companies that have signed memoranda of understanding for the settlement of green fuel, especially with regard to the technical support in the phase of feasibility studies, due to the special nature of green fuel projects related to the modernity of these projects, the necessary technology and the logistical nature of the sites in which they are located. The technical studies stage always requires joint cooperation to reach the best results that enable our partners to reach the implementation of these promising projects according to the expected schedule". SCZONE Chairman declared .
" The cooperation between SCZONE, Maersk, and Siemens energy in green fuel projects is an extension of the fruitful and constructive cooperation with these entities. SCZONE is thrilled with the cooperation between Maersk and Siemens energy on this project, which in turn is enriching the accuracy of technical studies related to the optimal production process of eMethanol". Added Mr. Waleid Gamal Eldein
Maersk is ambitious to complete this project, as technical studies are now being carried out related to the optimal selection of production sites, which will help determine the ways for the feeding industries to reach the facility to be implemented, and help in studying all logistical, financial and legal means related to the project. The meetings between the concerned parties at this technical stage lead to fruitful cooperation in achieving the objectives of the memoranda of understanding ". Said Mr. Kay Fischner
" We are pleased with this fruitful cooperation with SCZONE, and Siemens is keen to take into account a number of technical factors related to the project, which aim to maximize the use of the economic zone resources, facilities, and incentives provided, in addition to the size of the achievement that can be achieved by cooperation between the concerned parties to the project". Eng. Layla El Hares announced.
It is worth noting that these discussions came within the framework of cooperation and support provided by SCZONE to its partners in green fuel manufacturing projects. It also expressed the keenness of SCZONE to ensure the availability of the necessary environmental, legal and technical requirements in accordance with the highest international standards for projects to localize green fuels in its industrial zones.