Rhenus opens new Heathrow hub and celebrates Cancer Research UK partnership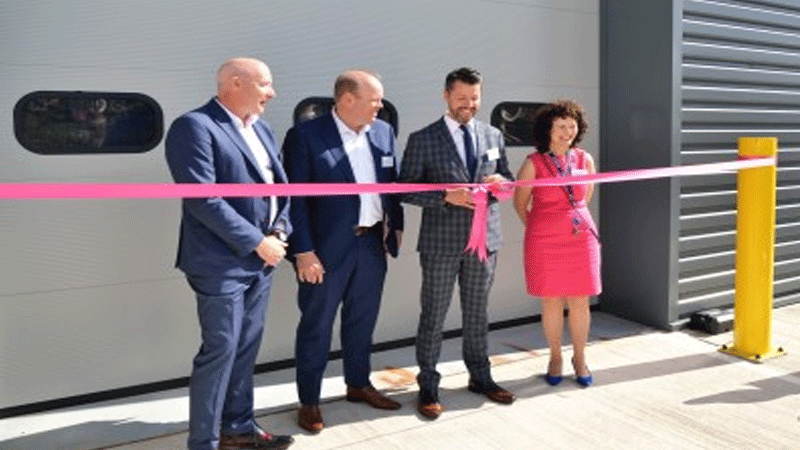 Rhenus UK has opened the doors to a new logistics centre near Heathrow Airport, a major investment designed to considerably strengthen its offer across life sciences and healthcare, full vehicle logistics and its air and ocean freight operations.
More than 80 customers, suppliers, partners and colleagues joined Rhenus UK to celebrate the opening of its new 58,000 square feet handling facility located in Ashford, just four miles from London Heathrow airport. The site will be the new home for the brand-new specialist pharmaceutical, life sciences and healthcare centre, the expanding Full Vehicle Logistics team, which manages the global transport of vehicles, as well as a new airfreight gateway.
Spencer Davern, UK Managing Director at Rhenus Air & Ocean UK said: "Our investment in this state-of-the-art facility and in our specialist teams has been designed to meet the future needs of our broad spectrum of customers to ensure the safe and secure handling of pharmaceutical and medical products. We are proud to support our customers so they can help patients to the utmost with the launch of our new Heathrow site."
Rhenus UK is also announcing an exciting initiative in partnership with Cancer Research UK, pledging to donate a penny to the charity for every kilogram moved through the new facility.
"The facility is temperature controlled, which means it requires the installation of heating, ventilation and air-conditioning pipes or dire-jet sock systems that run across the warehouse ceiling," Davern continued. "Usually these 'socks' are blue, but our team has decided to make them pink to raise awareness among staff and visitors to the site or our commitment to raising money for the charity. To celebrate our fundraising Pink Socks Programme, each visitor to our open day was gifted a pair of pink socks!"
The new life sciences and healthcare division will act as a one-stop-shop for all import and export logistics, offering a white glove service for temperature-controlled storage and distribution from end to end.
The Full Vehicle Logistics team will provide a dedicated service using a mix of air, ocean and road transport to move finished vehicles around the world for individuals, dealerships and OEMs.
The new air freight gateway is fully equipped with the latest X-Ray screening equipment, and will promote more sustainable airfreight by consolidating shipments, helping Rhenus and its customers to reduce their carbon footprint.
The centre was opened by Tobias König, Global CEO Rhenus Air & Ocean. He commented: "This new-build project represents a significant investment for Rhenus, demonstrating both our commitment to this sector of the market and the further growth of our operations in the UK and across Europe, while reflecting our global expansion plans. As a result of strong customer demand, we will continue to invest in and expand our life science and healthcare facilities worldwide, keeping pace with the needs of the market."