Quito Airport begins construction of import cargo facility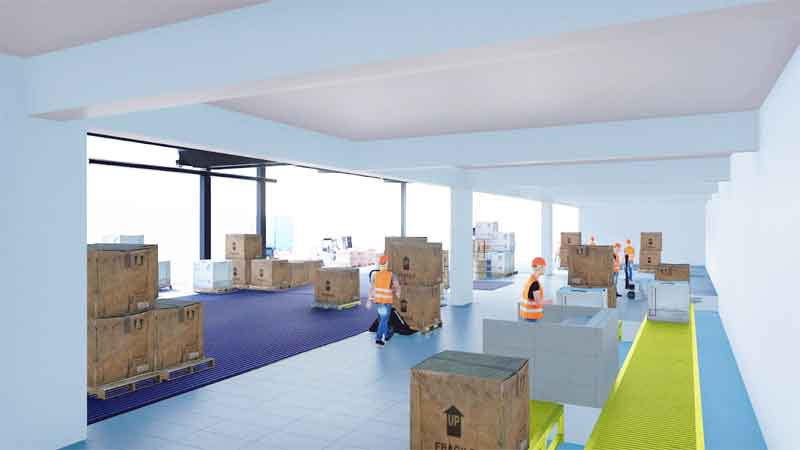 The first stone was laid at Tabacarcen cargo logistics center for the construction of the new import cargo distribution area located at the Quito International Airport. The investment for the work is US$ 2 million; It is expected to be completed in mid-2021.
One of the main innovations that the new import cargo distribution area will have is that automated solutions will be implemented for cargo handling, which generates greater operational efficiency, improves traceability and guarantees greater cargo security, which will be subject to limited operator intervention.
Sandro Ruiz, General Manager of the Metropolitan Public Company of Airport Services (EPMSA), Xavier Garay, District Director of the Ecuadorian Customs in Quito, Andrew O'Brian, President and CEO of Corporación Quiport, and Santiago Gómez de la Torre, General Manager of Tabacarcen were all present in the groundbreaking ceremony.
In his speech, Andrew O'Brian highlighted the fact that Tabacarcen is undertaking an investment in the midst of a situation of economic crisis generated by the COVID-19 pandemic. "While everyone is reducing budgets and investments and postponing projects, today Tabacarcen is investing in this plan, betting on Ecuador, betting on the airport and betting on the future. This is a project that will create jobs and opportunities. These are the signs that Quito and Ecuador need," commented Andrew O'Brian.
"This is an emblematic project for Tabacarcen, for the Quito airport and for the country, because we are going to have the most modern import air cargo terminal on the continent and the only one to have an automated system," explained Santiago Gómez de la Torre, General Manager of Tabacarcen, who thanked Quiport, EPMSA, Ecuador's Customs and all those involved for supporting the project and for contributing positively in the various stages of planning, approval and future construction.