Maersk rainbow container arrives in India for a month-long tour to celebrate diversity and inclusion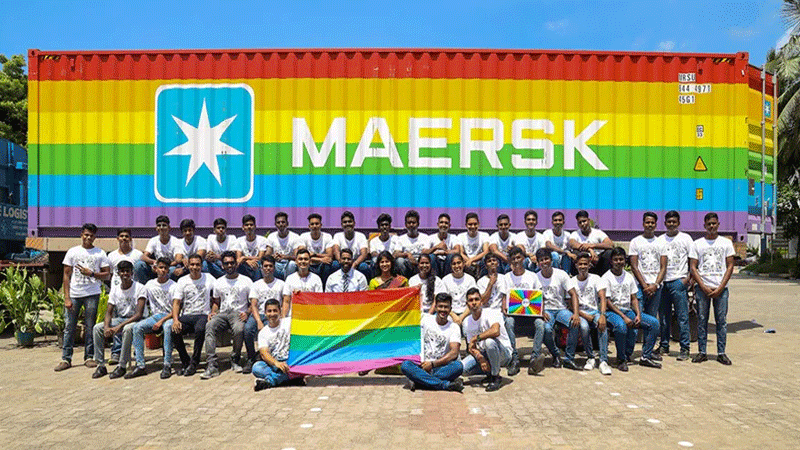 Maersk's skillfully painted, 40-feet rainbow container arrived in India earlier this week at the Ennore Port. The rainbow container started its tour of India on 21st July from Chennai and will travel through Bangalore, Pune and Mumbai before ending the journey end of August at APM Terminals Mumbai at Jawaharlal Nehru Port. During the India tour, the rainbow container will make various stops at Maersk's offices as well as pass through prominent spots in the cities to create awareness and celebrate diversity, equity and inclusion.
"Diversity, Equity and Inclusion (DEI) is an integral part of our culture at Maersk. We are extremely proud to welcome the rainbow container in India and further emphasise our commitment towards being inclusive of one and all. This container is a reminder that we stand with everyone regardless of their race, gender, age, ethnicity, sexual orientation, religion or disability. We celebrate everyone's authentic self and make sure that they are welcome to come and work or partner with us."
Shalini Nataraj, Head of HR, Global Service Centre (GSC), Fleet and Strategic Brands, A.P. Moller – Maersk
The rainbow container started its journey in Chennai from the Academy of Maritime Education and Training for budding maritime cadets. The cadets received DEI training on the backdrop of the container's visit to the academy. The container will spend next few days at the Maersk office where it will also welcome a Pride Parade, before moving to Bengaluru for the next two weeks where it will visit the Maersk Technology Centre, be present at Maersk GSC's Annual Leadership Conference.
Onwards from Bengaluru, the rainbow container will visit Pune city before its final showcase in Mumbai, where it will be placed at the Maersk offices in Vikhroli and Airoli. The rainbow container will finally head to APM Terminals Mumbai at the Jawaharlal Nehru Port, from where it will be loaded on a Maersk vessel for its onward journey to the next destination.