King Abdullah Port welcomes the world's joint-largest containership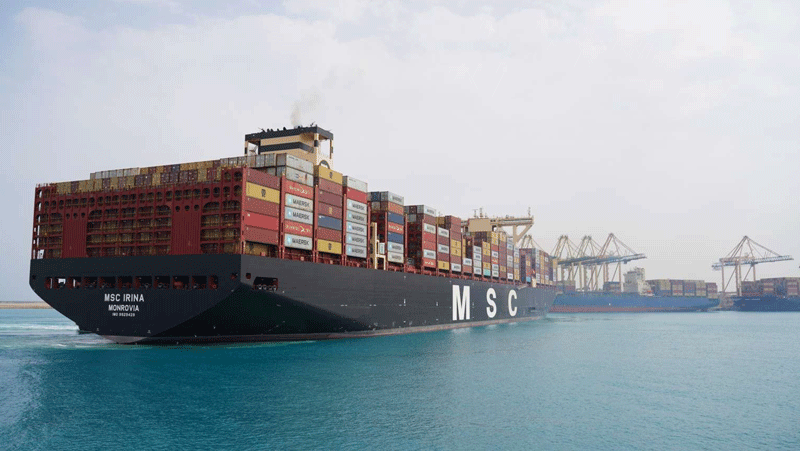 King Abdullah Port, recognized as the most efficient port worldwide according to the World Bank's 2022 Report, recently welcomed MSC Irina, the world's joint-largest cargo ship with a capacity of 24,346 TEUs. This significant achievement comes after the successful handling of the same container ship for the first time in May 2023, further solidifying its position as a major trade hub at the crossroads of three continents.
Furthermore, the port welcomed two of the world's largest cargo ships, MSC Tessa and MSC Gemma. These enormous vessels, each measuring a staggering 399.9 meters in length and 61.5 meters in width, have a capacity of 24,116 TEUs, ranking them among the world's largest container ships. The arrival of these ships, including MSC Irina, demonstrates the port's ability to meet the most rigorous demands of the shipping industry.
Benefiting from its strategic location, operational excellence, and immense capabilities, including state-of-the-art infrastructure and an 18-meter-deep water draft, King Abdullah Port is well-equipped to effectively handle not only the current mega-sized ships but also those anticipated in the future.
Mr. Jay New, the CEO of King Abdullah Port, expressed his excitement about welcoming the largest container ships in the world. He stated, "the port's success is reaching unprecedented heights, we are prioritizing infrastructure development, consistently investing in physical expansion to accommodate larger vessels, increase handling capacity, and enhancing operational efficiency".
With its unwavering commitment to operational excellence, strategic partnerships, and ambitions to become a mega port, King Abdullah port is charting a course towards a vibrant future, setting new standards in the industry, and contributing to the nation's economic transformation in line with Vision 2030 and the ambitions of the National Transport and Logistics Strategy (NTLS).