Antonov Airlines transports material processing equipment to Australia door-to-door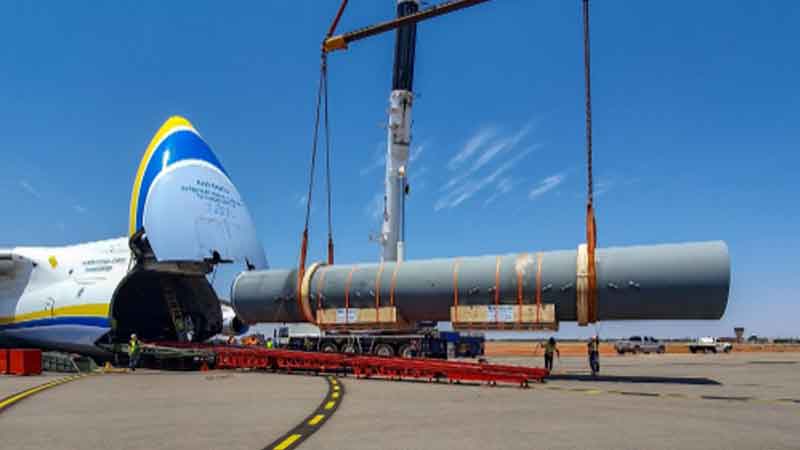 Antonov Airlines employed eight sub-contractors to complete the project that involved two An-124-100 flights. Road transportation from the vendor, cranes for loading and unloading, delivery to YPN's remote facility in Pilbara, as well as documentation preparation and processing were all required to successfully, transport two 21-metre drying drums that each weighed 57 tonnes.
"With strict performance obligations, we provided the door-to-door delivery service smoothly and on time thanks to the close collaboration between the Antonov team and our partner, YPN, together with the valued sub-contractors appointed for varying roles," said Graham Witton, Managing Director, Antonov Airlines' UK office.
"Executing a shipment like this one requires extensive planning, as we not only had to secure the flight permits, but we also had to organise road permits and transport as well as crane loading and unloading of the dryers from truck to aircraft and vice versa at the destination. Antonov Airlines UK office was instrumental in arranging the ancillary services and it shows that Antonov Airlines is able to respond as comprehensively as necessary beyond the role of charter flight mission when our customers call us to go that one, or in this case eight steps further."
The drying drums were transported in tailor-made wooden saddles designed by the Antonov engineering team in order to secure the cargo and prevent abrasive damage to the equipment during the flights.
"The Antonov Airlines team were very professional in managing the transfer of the two equipment items from France through to our remote site in the Pilbara region of north western Australia. The transportation went very smoothly, and this critical equipment was delivered safely and on time to allow handover to our construction contractor as planned." said Stewart Thatcher, Project Director at Yara Pilbara Nitrates.
The rotary drums were transported from factory to end user, and Antonov Airlines' custom loading ramp was used to load and offload them from the aircraft.
The rotary drying drums will be used to manufacture ammonium nitrate to supply to the mining industry.