ZIM names new LNG container ships in South Korea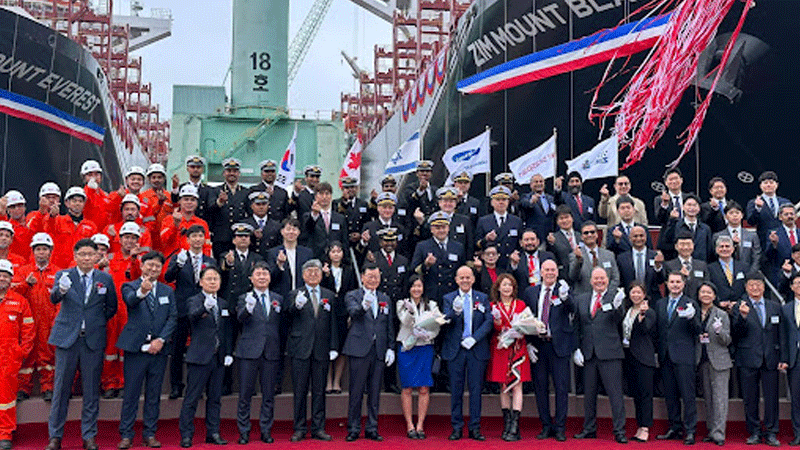 The Naming Ceremony of ZIM MOUNT EVEREST and ZIM MOUNT BLANC was held at SHI Shipyard in Korea. These vessels are the second and third 15,000 TEU LNG-powered vessels to join ZIM's fleet, following the delivery of ZIM Sammy Ofer in February 2023.
During the ceremony, "Godmothers" Alice Tham, ZIM Singapore Country Manager, and Rachel Yang, ZIM Head of Sales, South China & Hong Kong, officially named the vessels by cutting the ropes and smashing the traditional champagne bottles, unveiling the vessels' names together.
Eli Glickman, ZIM President and CEO, remarked, "ZIM has achieved record heights in recent years, emerging as a top performer and a leader in innovative technology, digitalization, and ESG values within our industry. It's fitting that this series of vessels will be named after some of the highest and most inspiring peaks on our planet. ZIM MOUNT EVEREST & ZIM MOUNT BLANC embody high ambitions, as well as the challenges we face in our fast-changing and dynamic industry, demanding agility and quick adaptation to changing business environment. They also represent some of the most pristine and beautiful places on our planet, reminding us of our commitment to preserving and protecting the environment through our ambitious ESG program, which now includes a net-zero emissions target by 2050, surpassing IMO regulations."
Equipped with the latest technology to ensure safety, efficiency, and reliability, the Neo-Panamax vessels are 366-meters long with a 51-meter beam. Their prominent features include a twin-islands design and a unique vertical bow, tailor-made hull form design optimized for operation profile. The vessels have a state-of-the-art propulsion system, with a max service speed of 22.5 knots, a dual-fuel main engine with output of 46,000kW @ 80 rpm, and an Energy Efficiency Design Index to meet the tightened emission standards in the future. Both vessels will join ZIM SAMMY OFER as the first LNG vessels in the world to call the US East Coast.