Yumin Shipping and OCBC Bank of Singapore signed a perpetually linked loan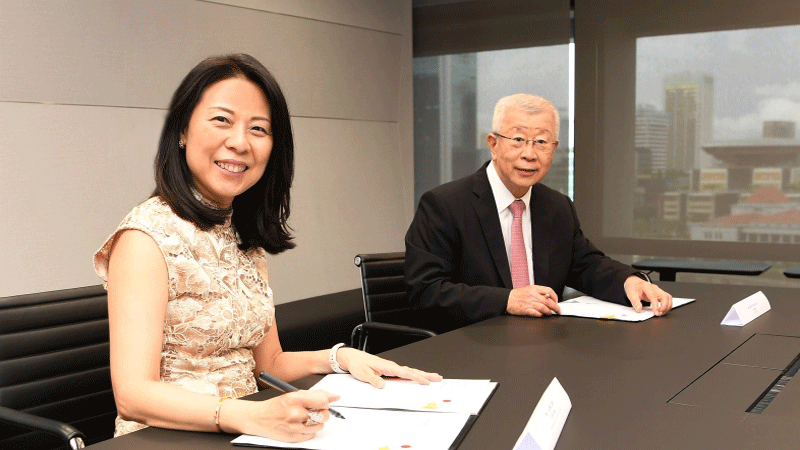 Yumin Shipping adheres to the belief of green shipping, builds intelligent and sustainable ships with the concept of energy saving and environmental protection, and implements the goal of sustainable development in combination with the sustainable credit business in the financial industry. Yumin Shipping Singapore, a subsidiary of Yumin, and Singapore's OCBC Bank (OCBC) completed the signing of a USD 70 million "Sustainability-linked loan" on February 9, 2022, marking the first time for Yumin Shipping A new milestone was achieved in overseas undertaking of "Perpetually Linked Loans".
"Sustainable Linked Loan" is to link the credit conditions with the sustainable indicators and the comprehensive performance of the company in environmental, social and corporate governance (ESG), etc., and encourage the company to set long-term sustainable performance goals. If the company actually achieves it, the bank will pass the interest rate. Reduce the size to provide support, so that companies can take into account ESG and take practical actions while expanding their operations to achieve sustainable operations. In addition, Yumin Shipping has also commissioned an external verification unit DNV to conduct a review to ensure that the goal of this "Perpetual Linked Loan" is in line with the Sustainability-Linked Loan Principles 2022 and Yumin's business strategy.
Yumin Shipping is a leading domestic bulk shipping manufacturer. In order to leave a better environment for the next generation, Yumin actively builds a green and intelligent fleet. In addition to improving the design of new ships, using energy-saving engines to optimize fuel efficiency, in order to comply with the International Maritime Organization (IMO) ) in 2050 to reduce the carbon intensity of the international maritime industry by 70%. In addition, in response to the government's green energy development policy, Yumin is actively expanding its green shipping business and smart ships to create a new generation of bulk carrier pairs with energy-saving, high-efficiency, intelligence and safety features. The "Perpetually Linked Loan" will be used to purchase two 210,000 DWT energy-saving and intelligent ships. This ship uses MAN 6G70ME-C10.5 tier3 engine and low-resistance paint. Coupled with the optimized hull design, the fuel consumption can be greatly reduced It can effectively reduce greenhouse gas emissions, reduce the impact on the environment, and contribute to environmental protection. In addition, the two ships are installed with the ship safety management system (FSM) designed by Yumin, which can effectively improve the operation efficiency, safety control and damage prevention of the ship. .