Wan Hai to deploy two newbuildings on Far East to US rotation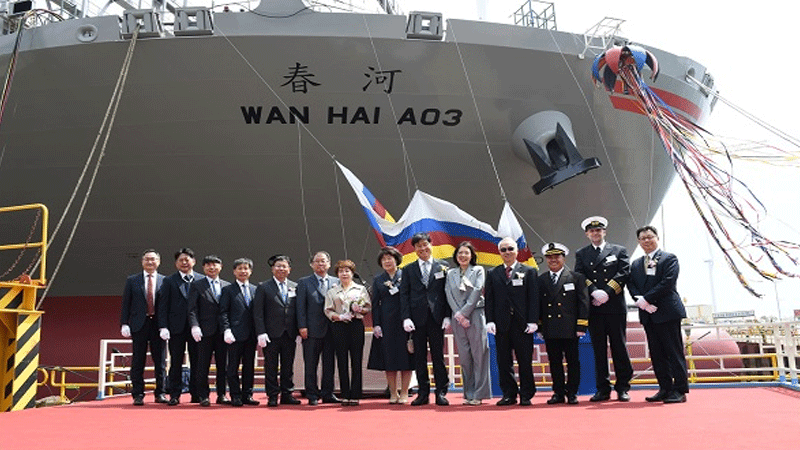 Wan Hai Lines Ltd. held a joint ship naming ceremony for WAN HAI A02 & WAN HAI A03 accompanied by a charity donation at HD HYUNDAI HEAVY INDUSTRIES Ulsan Shipyard. WAN HAI A02 & WAN HAI A03 is the second & third vessel in the series of 13,200 teu containerships built by HD HYUNDAI HEAVY INDUSTRIES.
Ms. Kim Ho Yoon, wife of Mr. Lee Jun Yong, EVP of KOREA ZINC CO, named WAN HAI A02 and Ms. Jung Kyung Won, Manager of WACKER CHEMICAL CO, named WAN HAI A03 during the ceremony.
The 13,200 teu series is designed with a length overall of 335 meters, a breadth of 51 meters, a draft of 16 meters and a maximum cruising speed of 22 knots. The containership takes energy efficiency and environment-friendly aspects into account. It is equipped with full balanced twisted bulb rudders, pre-swirl fin and meets the highest level of requirement for EEDI (Energy Efficiency Design Index) for phase III in advance. Besides, all the ships delivered are certified with "Smart Ship" notations.
WAN HAI A02 & WAN HAI A03 will be delivered in end of April and mid of Jul, 2023 respectively and will be deployed in Far East to the United States of America services. These new vessels are part of Wan Hai Lines efforts to ensure its continuous pursuit of fleet upgrading in order to provide the best quality service to customers. Wan Hai Lines upholds "Sustainable Development, Inclusive Growth" spirit and Wan Hai Lines motto, "We Carry We Care". As such, the company also made a donation to Ulsan Cham Sarang House, the charity that provide residential care to disabled people. We hope this small token could benefit the local community. As the company is committed to fulfill its corporate social responsibility, providing quality service to customers and bringing love to the society.