Virgin Atlantic Cargo partners with cargo.one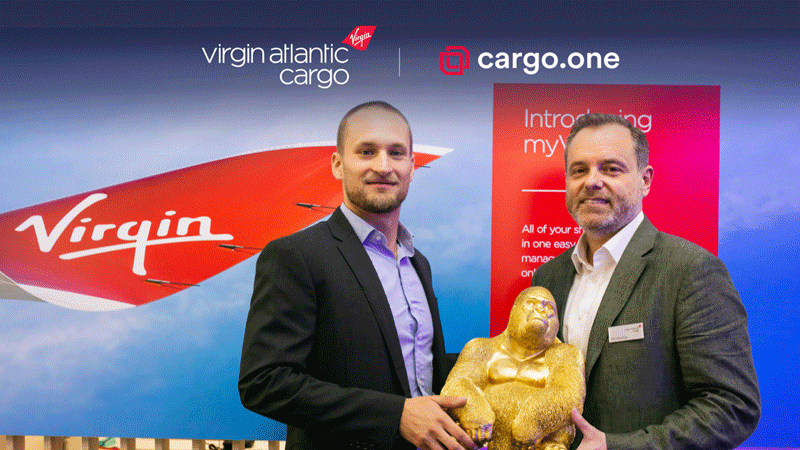 Virgin Atlantic Cargo and cargo.one announced a global partnership to bring the carrier's popular capacity to the real-time digital booking platform. *A salient part of the deal sees cargo.one returning a prized mascot, 'borrowed' by a mischievous cargo.one team during Air Cargo Europe in Munich in May 2019. The airline also gains an award-winning digital distribution channel chosen by a global user base of 15,000 freight forwarders across 75+ countries. By leveraging cargo.one's customer-centric booking process, Virgin Atlantic Cargo can now guarantee an intuitive and authentic booking experience for its external bookings.
Virgin Atlantic Cargo's network serves 400 destinations worldwide including daily services to key locations across the United States, India, China, Nigeria, South Africa, Israel and the Caribbean. As well as its global reach, freight forwarders rely upon Virgin Atlantic Cargo for its robust reliability and high-quality service. Partnering with cargo.one enables the airline to expand its customer base and booking channels with forwarders globally to improve digital access to its services.
The partnership aims to deliver a best-in-class proposition with instant bookings 24/7 for Virgin Atlantic Cargo's latest range of products, designed to offer maximum choice for forwarders. Customers can customize the right handling, speed, priority, and price for their needs by choosing from Classic, Priority, and Express rates. cargo.one will offer freight forwarders the most user-friendly access to Virgin Atlantic Cargo capacity, along with many speed and efficiency benefits, enabling them to win more shipments.
‍Phil Wardlaw, Managing Director at Virgin Atlantic Cargo, said, "We are delighted to have partnered with cargo.one. As customer requirements and digital experiences evolve, we anticipate that by 2025, a significant proportion of bookings will be completed online. This meant it was important for us to partner with the leading marketplace that continues to expand the choice for our customers, so they can book cargo their way".
"We always strive to create brilliantly different experiences for our customers, which is why we're pleased that cargo.one shares our commitment to exceeding customer expectations, making air cargo easier for everyone and ensuring that every touchpoint is not only optimal but also meaningful. Above all else, every digital booking with Virgin Atlantic Cargo comes with expert support and a human touch at every step". Mr Wardlaw continues, "We're also relieved to be rightfully reunited with our treasured mascot — that cargo.one brazenly bagged years ago, in full view of the cameras".
"Both Virgin Atlantic Cargo and cargo.one share a passion and uncompromising dedication to customer experience and have won freight forwarders' love and loyalty as a result", says Moritz Claussen, Founder & Co-CEO of cargo.one. "We will work together to build digital journeys that fully capitalize on Virgin's attractive offers while guaranteeing customers experience the care and expert support they value for their shipments. It is the very best of circumstances in which to return the Virgin team's prized primate".
Virgin Atlantic Cargo is at the forefront of applying systemic digitalization to both raise efficiencies and elevate customer experiences. In the next step towards multi-channel distribution, the airline chose cargo.one based on its industry strength and unrivaled ability to deliver forwarders a truly intuitive, human and seamless digital booking experience.
Teams from Virgin Atlantic Cargo and cargo.one will combine expertise and tailor cargo.one's technology to the airline's exact needs. With 40+ bookable airline partners, cargo.one is uniquely positioned to support airline teams with building the optimal setup to achieve maximum airline agility and value from digital distribution.
Freight forwarders will be able to book Virgin Atlantic Cargo capacity using the cargo.one marketplace. The partnership provides additional access to sought-after destinations such as New York, Johannesburg, Shanghai, and Mumbai.
*During the Air Cargo Europe trade show, at Messe Munich in May 2019, Virgin Atlantic's golden gorilla mascot mysteriously disappeared. The following video appears to reveal evidence of its removal and subsequent negotiated return to the Virgin team.