TAP Air Cargo pushes digital distribution with real-time offers on cargo.one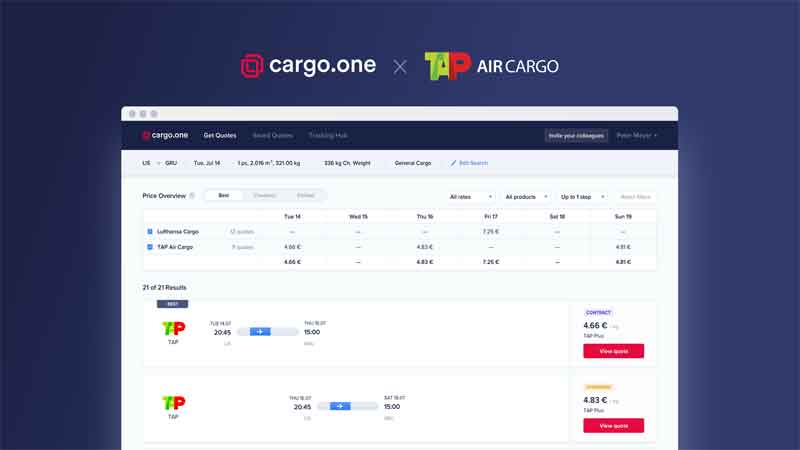 After a successful integration phase, Portugal's flagship carrier TAP Air Cargo now offers real-time offers on leading e-booking platform cargo.one. The partnership guarantees freight forwarders across Europe access to TAP Air Cargo's offers with the click of a button, including all "Preighter" flights that were recently established as a response to the COVID-19 crisis. With the large network of TAP Air Cargo, cargo.one expands its offering into North America, Latin American and African countries significantly, with many additional routes, amongst others to ORD, MIA, EWR or FOR, GRU, GIG, LAD or MPM.
With the go-live on cargo.one, TAP Air Cargo reaches a major milestone on its digitalization roadmap. "Offering customers a first-class service and seamless booking experience from A-Z with the help of technology is one of our key aspirations in our digitalization strategy" says Miguel de Paiva Gomes, Global Chief Cargo Officer of TAP. He continues: "cargo.one empowers us to digitize a crucial part of our value chain and thus, to increase operational efficiency while at the same time reducing substantial costs. Together with this experienced partner, we will be able to drive innovation much faster." The launch on cargo.one follows TAP Air Cargo's recent drive for e-AWB adoption, with further product innovations planned to tie together the company's digital agenda.
"TAP Air Cargo is a prime example of an airline that leveraged and augmented its existing systems through collaboration and with a can-do-mindset." comments Moritz Claussen, Founder and Managing Director at cargo.one. "Throughout COVID-19, our teams have been working hand in hand to achieve fantastic and tangible results under extraordinary circumstances. The integration process has set another industry benchmark."
The cargo.one team has demonstrated its competence as the integration specialist within the air cargo industry, successfully building solutions to any airline core systems. "cargo.one enabled us to build upon existing structures and has given us a lot of new functionalities. Together with their integration expert team that took lots of work off our shoulders, we managed to set up a future-proof system" says Bernardo Nunes, Senior Manager for Product, Services & Business Development at TAP Air Cargo who led the transformation process on the airline side.
As of this week, TAP Air Cargo capacity will be available on cargo.one in key European countries such as Spain, Portugal, Germany, Austria, the Netherlands, Belgium, UK, Ireland, Sweden, Denmark, Italy and France. Other markets will be available soon.