SRH Marine SAIT and Tototheo launch joint venture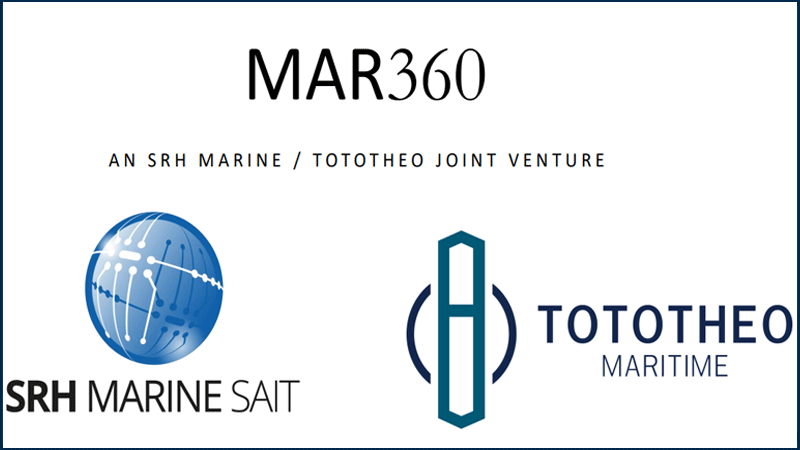 One of the few global IoT leaders in digital, navigation and communication solutions for shipping companies, SRH Marine SAIT and leading maritime telecommunications and technology provider, Tototheo Maritime join forces, through a new company, MAR360. The name reflects the global reach of the new company and the complete range of innovative and efficient telecommunication services that it aims to provide.
The partners are two of the most renowned organizations in the Greek, Cypriot and global shipping scene and have contributed to establishing Greece and Cyprus as maritime technology centers.
"We believe this partnership is an embodiment of our ongoing belief that the future of shipping lies in transparency and collaboration", said Socrates Theodossiou, Owner, and co-CEO of Tototheo Maritime. "This partnership with SRH Marine SAIT is a natural evolution of our growth as a trusted partner".
"We have a belief that the future of the maritime industry is through collaboration, and this has allowed us to maintain our leading position in the industry. Teaming up with Tototheo Maritime is the culmination of our ongoing strive to continue fulfilling our customers' needs to the highest level", said John Laderos, Owner and Executive Chairman of SRH Marine SAIT.
Theodoros Nikolopoulos, Managing Director of SRH Marine SAIT and Despina Panayiotou Theodossiou, co-CEO of Tototheo Maritime will lead the new company assuming the roles of joint CEOs in MAR360. "We enter this partnership on equal terms and confident that it is a game-changer in our industry. This 'Anything, anywhere' approach reflects the joint venture's attitude and ability to service our customers' needs whatever they are, wherever they are, and this has been a constant value for both SRH and Tototheo. We've combined traditional family values with a full portfolio of 21st Century technology connectivity applications, globally" they said.