Sonoco ThermoSafe launching Pegasus ULD line to move pharma shipments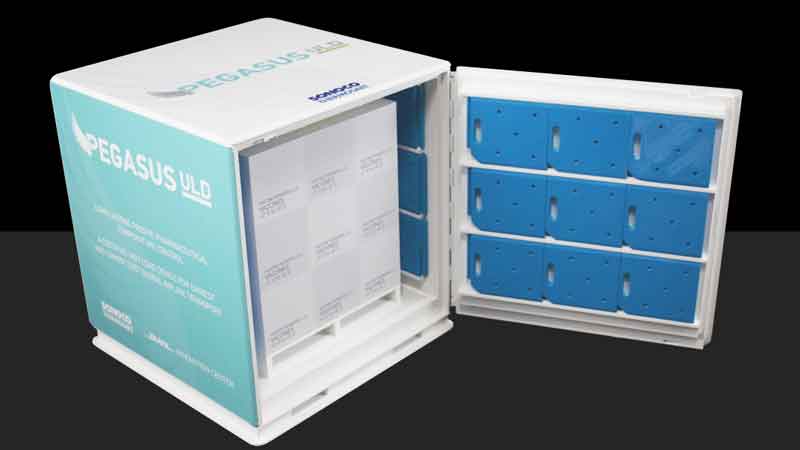 Sonoco ThermoSafe announced the creation of the Pegasus ULD® line of passive temperature controlled unit load devices. The Pegasus ULD will be the first passive bulk temperature-controlled container for pharmaceutical use that is an approved unit load device, which allows it to speed through existing international ground handling and customs processes at the lowest possible cost.
With increasing demands for life science and healthcare companies to ship in larger quantities, the Pegasus ULD was specifically designed to fulfill a gap in the market for passive bulk packaging solutions. Engineered with composite materials, the unit load device will offer a lighter solution that is substantially more damage-resistant than traditional metal containers. Additionally, Sonoco ThermoSafe customers will experience cutting edge integrated real-time data capabilities, including internal and external temperature tracking and robust geolocation. Because risk mitigation decisions are based on accurate and timely data, Pegasus ULD users will be able to count on these capabilities when they need them the most.
To create the Pegasus ULD, Sonoco ThermoSafe signed a long-term exclusive development and manufacturing agreement with AEROTUF, a leading supplier of innovative composite ULD containers. The partnership combines ThermoSafe's expertise in thermal engineering and pharmaceutical logistics with AEROTUF's materials science and aeronautical engineering capabilities. The first Pegasus ULD model, to be launched in the upcoming months, will be the lighter AKP size, which fits a full US pallet and shares the same footprint of the AKE size without the imbalanced overhang section which accounts for over 80% of transit damage in AKE/RKN containers.
"We are delighted to partner with AEROTUF to create the best-in-class Pegasus ULD® line of passive temperature control ULD containers," said Christopher Day, Director of Marketing, Innovation and Business Development for Sonoco ThermoSafe. "The rugged, lightweight composite design of this unit load device enables the pharmaceutical supply chain to cost-effectively ship globally across the Americas, EMEIA and Asia-Pacific regions. Additionally, Sonoco's 300+ global locations allow the ThermoSafe division to quickly and efficiently expand the depot network for leasing Pegasus ULD® units across the globe."