Saudia Group launches logistics services for Saudi airports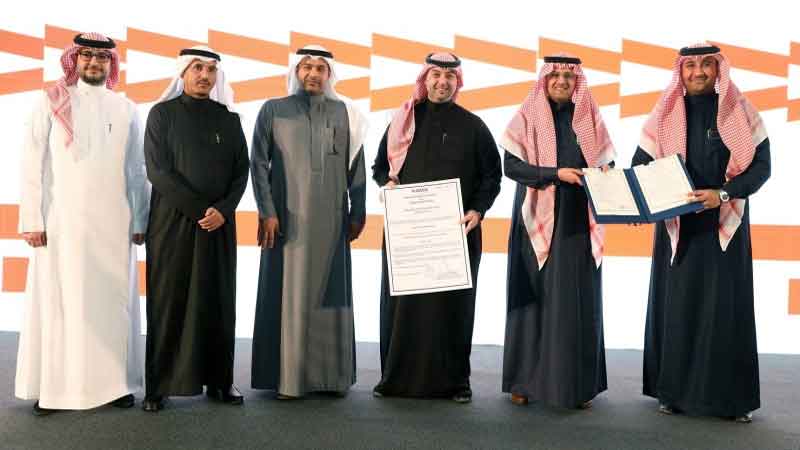 Under the patronage and presence of the Minister of Transport, Saleh Bin Nasser Al-Jasser, Saudi Arabian Airlines (Saudia) launched on Dec. 16, 2019 the Saudi Arabian Logistics (SAL) Co., the new independent entity within the Saudia Group which will act as the main cargo gate and ground handling and logistics services hub across the Saudi airports.

The launch was announced in a grand ceremony held in Riyadh and attended by the Governor of Customs Authority Ahmad Al-Haqbani, Abdulhadi Al-Mansouri, President of the General Authority of Civil Aviation (GACA), Anef Abanomi, President of Saudi Post, Sami Sindi, the Saudi Arabian Airlines (SAUDIA) Director General, the directors of government agencies working at Saudi airports, CEOs of the companies and the strategic units of the Saudia, cargo and aviation transport experts.
A speech was delivered by Fawaz Al-Fawaz, Chairman of SAL Board, underscoring SAL logistics goal and its pivotal role in achieving the Vision 2030 objectives. Al-Fawaz thanked everyone who had a contributory role in founding the company, which will usher in a new logistics era keeping up with the growth and development across the precious Kingdom. Following the speech, Eng. Al-Jasser announced the official launch of the SAL brand into the world of logistics services.

SAL CEO Omar Talal Hariri delivered a speech and played a short video explaining the SAL goals and brand identity.
"SAL aims to provide integrated logistics operations and ground handling services. It acts as a link between land and sea shipping and the Saudi airports in line with the National Industrial Development and Logistics Program, which is one of the pivotal themes of the Vision 2030, especially in the light of the gigantic economic transformation the Kingdom has been seeing. SAL will improve the quality of logistics operations and support the Kingdom's vision towards transforming the country into a global logistics hub handling all types of cargo and shipping operations pointed out Hariri.

GACA President handed over GACAR 151 license to SAL CEO, which qualifies SAL to officially provide ground-handling services at King Khalid International Airport's cargo station.

Al-Jasser noted that one of the SAL strategic goals is to invest in the Kingdom's strategic location as the heart and the crossroads of key international trade routes between three continents: Asia, Europe and Africa and a distinctive logistical getaway between the East and the West and all over the world.

Describing the logistics service sector as vital and strategic, Al-Jasser commended the milestone developments achieved so far and hoped to see more public and private sector partnerships that help support and bolster the comprehensive development across the nation in this prosperous era as well as contribute to achieving the logistic goals of Vision 2030. He hopes SAL will have a noticeable effect on the overall logistics industry.
"The unprecedented comprehensive development projects being implemented require all government agencies and the private sector to join forces in order to execute similar projects that help develop logistical services and efficiency. The government views the transportation sector as pivotal and works to develop it in order to provide the best transportation and integrated logistics services that keep up with the comprehensive development programs. SAL is one of the ambitious initiatives," Al-Jasser said.

Saudia Director General Sami Sindi said SAL will improve the efficiency of logistics operations and ground handling services through integrating land and sea transportation operations and linking them with the Saudi airports in order to enhance logistical services across all stages.

"SAL will contribute directly to enhancing and developing the logistics infrastructure including all types of cargo platforms, warehouses and equipment as well as e-commerce cargo and shipping facilities," Sindi explained.

He said SAL will start its business activities in January 2020 and offer high-quality logistics and ground handling services in line with the national and development goals. It will also create more economic and development opportunities through forging strategic partnerships with different local and global logistics service providers. — SG. (Source: Saudi Gazette)