Royal naming for Wightlink's new flagship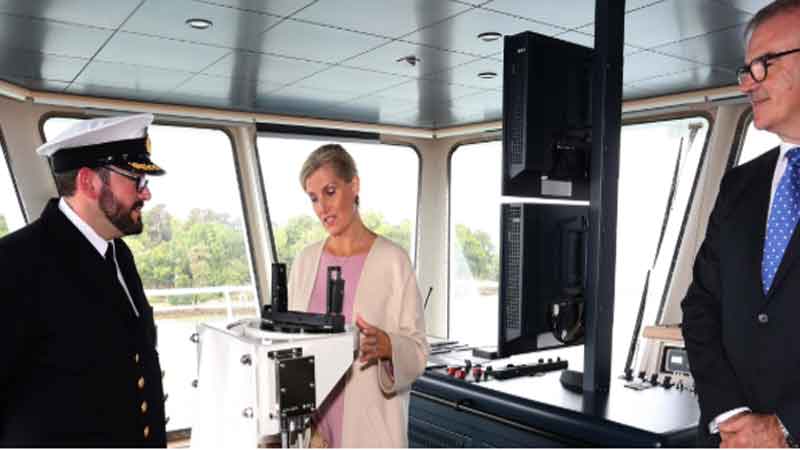 Wightlink's environmentally friendly flagship, Victoria of Wight, was officially named by Her Royal Highness Sophie The Countess of Wessex.
The new £30 million hybrid energy car ferry received a blessing by The Right Reverent Christopher Foster at Wightlink's port of Fishbourne before the Countess of Wessex broke a bottle of Champagne over the ship's bow, in the long-established maritime tradition.
Wightlink was keen to make sure the Island's community was at the heart of the ceremony, with local school children and Island-based suppliers at the ceremony.
During her visit, the Countess of Wessex was presented with a posy by seven-year-old Scarlett Marshall from Wootton Primary School and ten-year old Beau Bowden from Binstead Primary School before being given a tour of the new ship by Wightlink Chief Executive Keith Greenfield.
Following a lunch onboard, prepared by local chef Robert Thompson using locally sourced ingredients, the Countess of Wessex viewed the ship's bridge and learned about the new ferry's environmental credentials from Captain Tom Vincent and Fleet Commodore Peter Hayes.
Powered by hybrid energy, Victoria of Wight uses a combination of battery power and conventional engines to minimise emissions. Its eco-friendly features also include a lift that can generate electricity through kinetic energy, onboard water heated by warmth generated by the engine and motion sensor LED lighting in lesser-used areas of the ship.
After the ceremony Her Royal Highness spent time with guests who designed the new ferry, as well as the crew members who will be onboard the new ship as she is gradually phased into service this Autumn.
There was also an opportunity for Her Royal Highness to meet some of Wightlink's local suppliers, including Paul Griffin from Briddlesford Farm Dairy near Wootton, which provides all the milk used onboard Wightlink's fleet.
Keith Greenfield says: "I was proud to see our brand new ship being named by Her Royal Highness and very fitting that a member of the Royal Family should name Victoria of Wight, just a few miles from Osborne House, a place so loved by Queen Victoria.
"The arrival of Victoria of Wight heralds the completion of our £45million investment to improve the speed and efficiency of the route between Fishbourne and Portsmouth. Her hybrid energy system and host of environmental features will provide a cleaner and greener journey across the Solent for our customers.
"We were delighted to be joined by so many Isle of Wight companies who supply the refreshments we sell on board our fleet, as well as local school children, representatives from the charities and sporting groups we support and members of the local business community. It was a wonderful occasion and we would like to thank everyone who came along to help us celebrate."
Victoria of Wight can carry up to 178 cars and more than 1,000 passengers and as well as transporting Island residents across the Solent will play an important role in bringing tourists to the Isle of Wight.
Will Miles, Managing Director at Visit Isle of Wight, says: "Visitors to the Isle of Wight will certainly be arriving in style when they travel on Victoria of Wight, a vessel that embodies the Island's reputation as a high quality tourist destination. Her eco credentials are impressive and as an organisation that is keen to promote sustainable travel on the Island, we welcome this environmentally friendly addition to Wightlink's fleet."
Picture caption: The Countess of Wessex examines Victoria of Wight's compass with Captain Tom Vincent and Wightlink Chief Executive Keith Greenfield.