Poland signs $4.6bn deal for F-35 fighter jets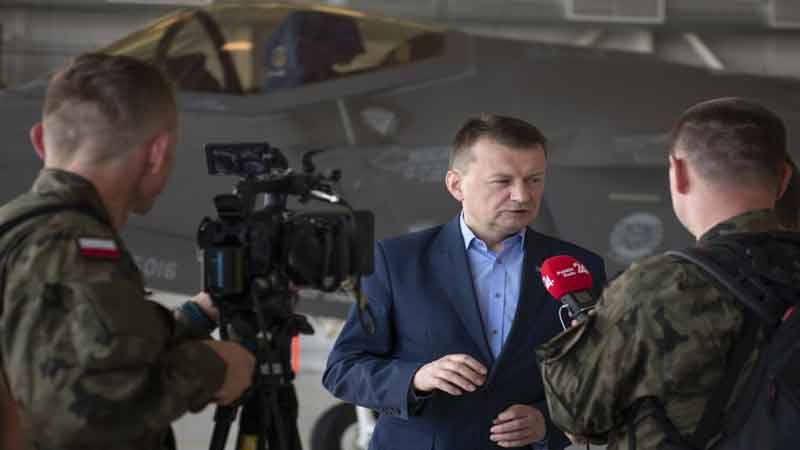 Lockheed Martin has won a $4.6 billion order for the F-35 fighter aircraft from the Polish government, including 32 F-35A conventional takeoff and landing variants.
The deal, which was signed by Polish defence minister Mariusz Blaszczak, was conducted under the Foreign Military Sales program overseen by the US Department of State.
Greg Ulmer, vice president and general manager of the F-35 Program, commented: "Lockheed Martin is honoured by the Polish government's decision to procure the F-35A Lightning II. We look forward to supporting the US government in delivering the F-35 to meet Poland's requirements.
"Poland is the 14th nation and 10th NATO country to join the program, a testament to the US government's confidence in the program. The selection of the F-35 will extend our longstanding partnerships with the Polish government and local industry for decades to come."
Michael Pompeo, Secretary of State in the US, added: "We commend president Duda, prime minister Morawiecki, and the Polish government's commitment to continue modernising Poland's military through the acquisition of the world's most advanced fighter aircraft, which will improve Poland's ability to provide collective and self-defence. We look forward to working with our NATO ally Poland on this project and continuing to enhance our long-term strategic partnership."
The F-35 is the world's largest defence programme. Led by the US, with participation from the UK, Italy, Netherlands, Australia, Canada, Denmark, Norway and Turkey, it is a collaborative programme aimed at delivering a stealthy, multi-role attack aircraft capable of operating from land and sea to nations across the globe.
The UK defence industry produces 15% of the parts for the F-35 programme. One example is BAE Systems, which is a Tier 1 supplier into the stealth fighter programme, and builds the rear section of each F-35 using cutting edge manufacturing technology. (Source: Aerospace Manufacturing)