OOCL celebrates arrival of 4th 24,188 TEU mega vessel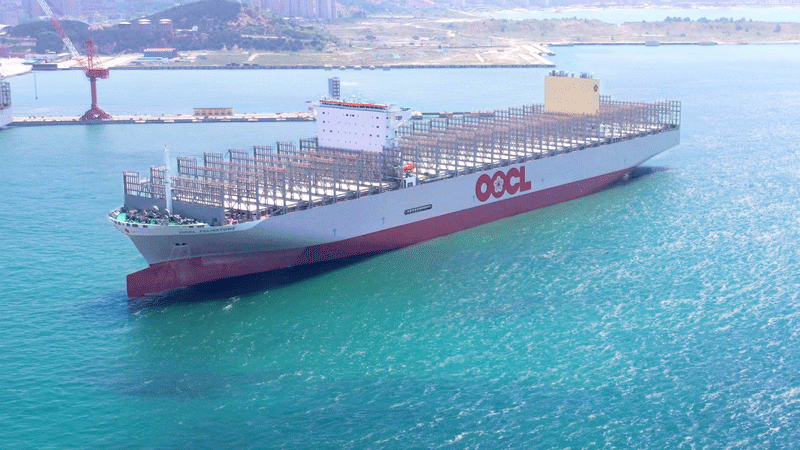 Orient Overseas Container Line Ltd. is pleased to further strengthen the company's fleet structure by introducing one more 24,188 TEU mega vessel. The brand new container vessel is named "OOCL Felixstowe" at the Dalian COSCO KHI Ship Engineering Co., Ltd. (DACKS) shipyard.
OOCL invited a number of distinguished guests, partners and customers to witness the important moment when the vessel was named by Ms. HE Lijun.
Mr. YANG Zhijian, Chief Executive Officer of OOCL, said at the ceremony: "We ordered this series of ultra large container vessels not only to provide better services to our customers, but also to enhance our cost competitiveness and to seize the initiative for future development. I firmly believe that, with leadership from COSCO SHIPPING Group, support from all stakeholders and the power of synergy, OOCL will certainly reach new heights of creating greater value for customers, partners, shareholders, and indeed society at large."
OOCL Felixstowe is the fourth eco-friendly 24,188 TEU vessel to be received by OOCL in a series of twelve, and will be serving the Asia-Europe LL3 service with her three sister vessels.
Her port rotation is: Shanghai / Xiamen / Nansha / Hong Kong / Yantian / Cai Mep / Singapore / Piraeus / Hamburg / Rotterdam / Zeebrugge / Valencia / Piraeus / Abu Dhabi / Singapore / Shanghai