Norvic Shipping adds eco-friendly ultramax to expanding fleet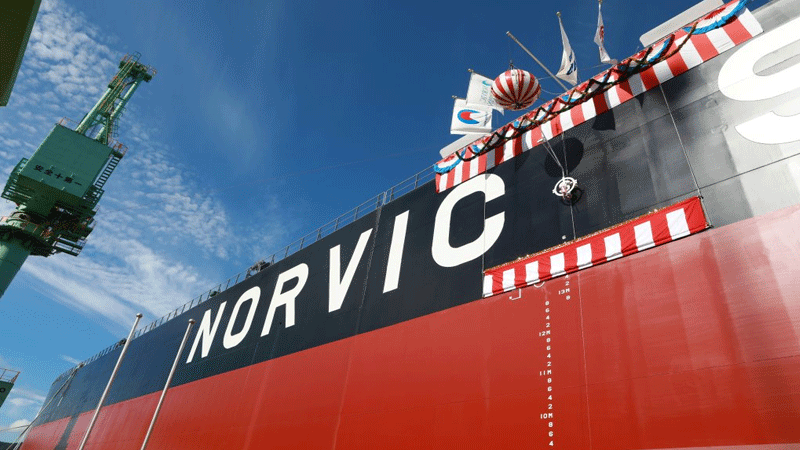 Norvic Shipping, the global dry bulk owner and operator, has taken delivery of an energy efficient ultramax vessel on a long-term charter as the organization continues to expand its fleet to meet increased demand from clients for greener ships.
The 64,000 dwt fuel-efficient vessel, named Norvic Copenhagen, will be deployed worldwide after being delivered by Imabari Shipyard during a recent handover ceremony in Japan.
Commenting on the acquisition, AJ Rahman, Group Chairman and CEO of Norvic Shipping, said: "Acquiring dry-bulk vessels on lengthy charters is part of Norvic's strategy to expand our long-term fleet, ensuring we meet increased demand from our customers for efficient ships."
Mr Rahman added: "Norvic employs an active management approach to fleet trading, keeping in mind vessel utilization and performance. We put great focus on fuel and voyage efficiency and have an accomplished and qualified team of operators who proactively work towards reducing our impact on the environment.
"Alongside building our own modern fleet, we work with our network of vessel owners to provide customers with choices around how they can meet their ambitions, including access to ships with a higher CCI/EEXI rating, or, over time, those that can use alternative fuels."
The arrival of Norvic Copenhagen is the first of three energy efficient vessels that the organization will add to its fleet this year. In the coming months, the company will also take delivery of two 40,000 dwt handysize vessels – to be named Norvic Houston and Norvic Singapore respectively – from Onomichi Shipyard in Japan.
The handover ceremony of Norvic Copenhagen was attended by AJ Rahman; Niels Kay Kjaer-Petersen, Commercial Director and Co-head of Atlantic Business Unit; Michael Fenger, COO and Head of Global Chartering; Abhijit Palande, Commercial Director of the Pacific Business Unit; and Tareef Rahman, Director, Strategy and Business Development.