MOL completes concept study of Ammonia / Liquefied CO2 carrier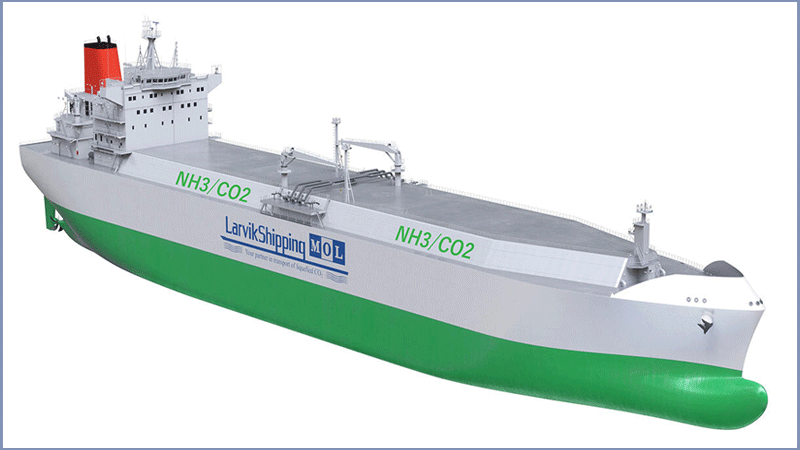 Shosen Mitsui Co., Ltd. is with Mitsubishi Shipbuilding Co., Ltd.. In collaboration with each other, we have completed the concept study of "Ammonia / Liquefied CO 2 Combined Transport Ship" based on the ship type that can be the mainstream in the market in order to flexibly meet the future transportation demand of liquefied CO 2 and ammonia.
Liquefied CO 2 transport vessels are collected and liquefied in the CCUS (Carbon dioxide Capture Utilization and Storage) value chain, which is attracting attention as one of the means to realize a low-carbon and decarbonized society. It plays an important role as one of the means to efficiently transport the generated CO 2 to the storage area or the effective use area.
In addition, ammonia is attracting worldwide attention as a next-generation clean energy that does not emit CO 2 when burned , and in the trend of decarbonization, there is a growing movement around the world to strategically utilize ammonia. increase.
As with the LCO 2 vessel that completed the concept study in November 2021, the "ammonia / liquefied CO 2 combined transport vessel" that completed the concept study this time assumes the future liquefied CO 2 / ammonia market, up to around 50,000 m 3 . Cargo tank capacity is set.
Based on this ship type, we will continue to study various ship types together with the Japanese maritime cluster in order to flexibly respond to customer needs based on the entire value chain.
In March 2021, we invested in Larvik Shipping AS , which manages two industrial LCO vessels in Europe for more than 30 years. Participated in. By combining the knowledge of safe operation that we have cultivated so far with the know-how and achievements of LS , we will continue to study toward the realization of LCO 2 vessels that meet customer needs, and further the liquefied CO 2 marine transportation business globally. Contribute to development.
In "MOL Group Environmental Vision 2.1", we have set "Achievement of net zero emissions for the entire group by 2050" as a medium- to long-term goal, and we will work on five strategies to achieve it. Through the liquefied CO2 transportation business, we will contribute to the reduction of GHG emissions in society.