MOL and Mitsui acquire AiP for large ammonia-powered bulk carrier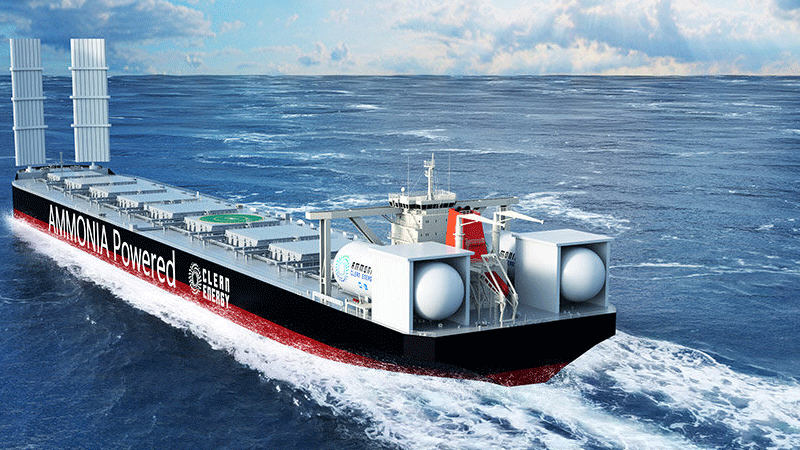 Mitsui O.S.K. Lines and Mitsui & Co., Ltd., Nippon Kaiji Kyokai gave basic approval (AiP) for the design of an ammonia-fueled large bulk carrier
In the development of the ship, MOL and Mitsui & Co. jointly decided on the size and specifications of the ship, and both companies outsourced the design to Mitsubishi Shipbuilding Co., Ltd. This time, AiP was acquired for a 210,000 deadweight ton cape-size hull with high versatility.
By installing a main engine that can use ammonia as fuel, which does not emit CO2 when burned, the ship achieves zero CO2 emissions during voyages . In addition, the ship is designed to install two ammonia fuel tanks on deck to maximize the cruising distance assuming various routes, and it is a specification that maximizes the cargo space. Furthermore, Nippon Kaiji Kyokai conducts a HAZID (Hazard Identification Study) to confirm that there are no unacceptable risks at the basic design stage and to identify matters that should be considered in detailed design. It is planned, and the design incorporates safety measures that fully consider the toxicity of ammonia.
Amid the trend toward decarbonization, interest in ammonia as a next-generation clean energy is growing worldwide, and the movement to strategically utilize ammonia as a fuel is accelerating in the maritime industry as well. Amid growing expectations for ammonia as a fuel for ships, MOL and Mitsui & Co. will promote the expansion of net zero-emission ocean-going vessels and play a role in the efforts of society as a whole to achieve decarbonization.