Mitsubishi Shipbuilding holds launch ceremony for a MRRV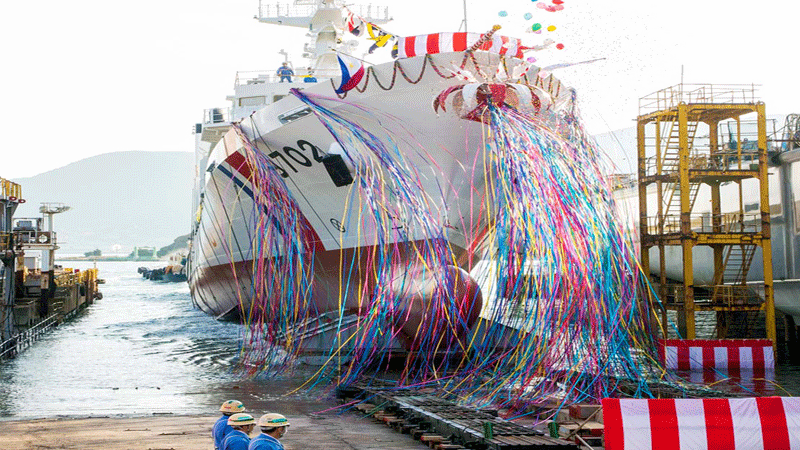 Mitsubishi Shipbuilding Co., Ltd. of the Mitsubishi Heavy Industries Group has received an order from the Ministry of Transport of the Republic of the Philippines on the 18th and is constructing two large Multi-Role Response Vessels. Of these, the launching ceremony for the second ship was held at the Eura Plant of Mitsubishi Heavy Industries Shimonoseki Shipyard. The vessel will be circulated to Manila, the country in May 2022, after undergoing equipment work and test runs, and will be named and handed over in September. In addition, the first ship, which has already undergone the launching ceremony, will be circulated to Manila in late February 2022, and will be named and handed over in May.
Multipurpose vessels play an important role in rescue operations during stormy weather and patrol operations offshore and coastal areas. The vessel is approximately 96.6 m long, has a maximum speed of 24 knots, has a range of over 4,000 nautical miles, and has communication equipment and helicopter equipment capable of monitoring the Exclusive Economic Zone (EEZ), as well as remote-controlled unmanned diving. Equipped with equipment and equipment necessary for grasping marine conditions and enforcing maritime law activities, such as aircraft and high-speed work boats. It will contribute to improving the ability to respond quickly to marine accidents and maritime crimes in the country's EEZ and high seas.
This project is a ODA loan project signed in October 2016 between the Republic of the Philippines and Japan as the "Philippines Coast Guard Maritime Safety Response Capacity Enhancement Project (Phase II)". Japanese technology utilization conditions are applied, and it is expected that Japanese shipbuilding technology will be utilized.
Mitsubishi Shipbuilding will continue to contribute to the progress of society together with our customers by building ships that have excellent fuel efficiency and environmental performance in Japan and overseas and that contribute to social safety and international contribution.