Maersk announces new warehouse for electric car batteries near Hanover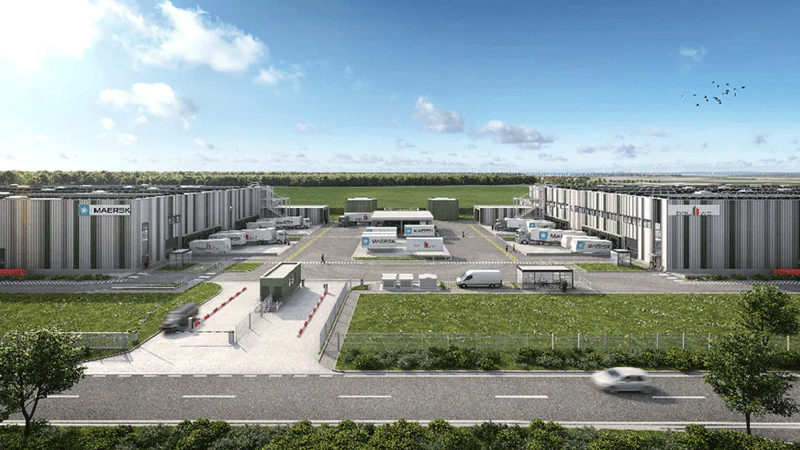 Maersk, together with the German project developer bauwo, is building a 20,000 square meter logistics center near Hanover for the storage and handling of electric car batteries and components to produce the batteries. Following the successful launch of a similar facility in Teplice, Czech Republic, in November 2022, the two new halls in Berkhof, directly on the A7 motorway, will further strengthen Maersk's strong position as a logistics partner of the automotive industry. Thanks to the recently granted construction permit, the works on the approx. 50,000 square meter site have already begun. The completion of the highly automated battery warehouse is scheduled for May 2024 in just one year.
"In addition to Teplice, the battery warehouse in Berkhof will be our second, even larger location in Europe, with which we will meet the growing demand of the automotive industry for logistics solutions for electric car batteries. The new facility is close to the production sites of several car makers and will help e-mobility to grow across Germany and Europe."
Jens-Ole Krenzien, Maersk Managing Director North Europe Continent
"Logistics in the automotive industry is one of the most demanding. Through our control over all important assets along the transport chain from the factory in Asia to the use of the parts in a plant in Europe, we can offer our customers not only tailor-made, but above all very resilient and flexible logistics solutions," Krenzien continues. "The logistics center in Berkhof will be a central building block for transporting and temporarily storing the batteries as the most important element in e-mobility."
In addition to storage and repacking, the services offered in the special warehouse include in-depth quality controls and charging of the batteries as well as other value-adding services along automotive supply chains.
Up to 34,000 pallets can be accommodated in the two halls with a clear height of twelve metres. The batteries are monitored by a sophisticated safety system. For example, in case of higher temperature or expansion in size, a pallet is evacuated fully automatically and safely stowed outdoors in a special container where it can be further examined. The warehouse can be tailored to separate compartments dedicated to a customer if needed.
The strong growth of e-mobility in Europe continues, and the demand for specialized battery logistics is increasing. In addition to the conversion of new car production from combustion technology to electric engines, the handling and recycling of used e-car batteries of the first-generation is now also starting at scale. Specialized companies, including some from Germany, can give these used batteries a second, multi-year life by replacing individual battery cells, but this also requires storage and distribution capacities.