Maersk and SEED Ventures collaborate to improve agricultural exports from Pakistan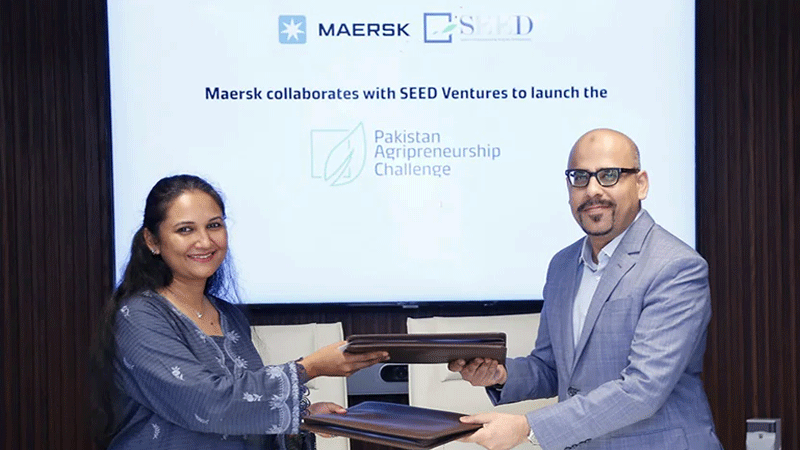 Maersk Pakistan Private Limited (Maersk) and SEED Ventures have joined hands by signing a Memorandum of Understanding (MoU) on July 20, 2022, to launch Pakistan Agripreneurship Challenge (PAC). PAC is an Agri-value chain intervention challenge that aims to improve the quality of Pakistan's agricultural produce and explore new global markets for Pakistan's agriculture exporters.
In 2020, Pakistan produced 5.6 million metric tons of vegetables, of which the resulting export produce amounted to $4.92 million. In contrast, the Netherlands producing 5.3 million metric tons of vegetables, could export $31 billion worth of produce. This comparison showcases Pakistan not meetings its export potential for vegetables. Issues pertaining to storage, transport & distribution are significant roadblocks for the Agri sector, and it is evident that a holistic value chain intervention is required for the post-harvest category. According to a paper released by Asian Development Bank in 2019, Pakistan could save about $1.13 billion annually by reducing up to 75% post-harvest losses. The collaboration between SEED Ventures and Maersk aims to identify potential solutions to support Pakistan in meeting its export potential.
"At Maersk, our purpose is to improve life for all by integrating the world. We are delighted to partner with SEED Ventures and contribute to improving Pakistan's agricultural sector. With our intel and understanding of the global market, the demand and supply, the consumer behaviour etc., we bring a lot of data to the table that can help the agricultural producers in curbing their losses through proper inventory management, using the right logistics solutions and implementing resilient operations that answer the call of the market."
Hasan Faraz, Managing Director, Maersk Pakistan
PAC is an agripreneurship challenge that calls upon Agri ventures, innovators, farmers and agriculture students to participate and develop innovative solutions to solve the post-harvest challenges in Pakistan for vegetable produce. The shortlisted finalists from the challenge will be given the opportunity to realise their innovative agripreneurship solutions by Maersk and SEED.
"Pakistan is an agricultural economy, and keeping in mind the challenges that the country is facing, concentrating on basic economic and contributing to the development of this very critical sector is imperative. We are excited to be partnering with Maersk Pakistan for this initiative, their approach has been most forthcoming, and it is great to see an organisation leading in the supply chain sector is thinking not just about their industry but the entire value chain."
Shaista Ayesha, CEO SEED Ventures