Hyundai LNG Shipping: Delivery of three eco-friendly VLGCs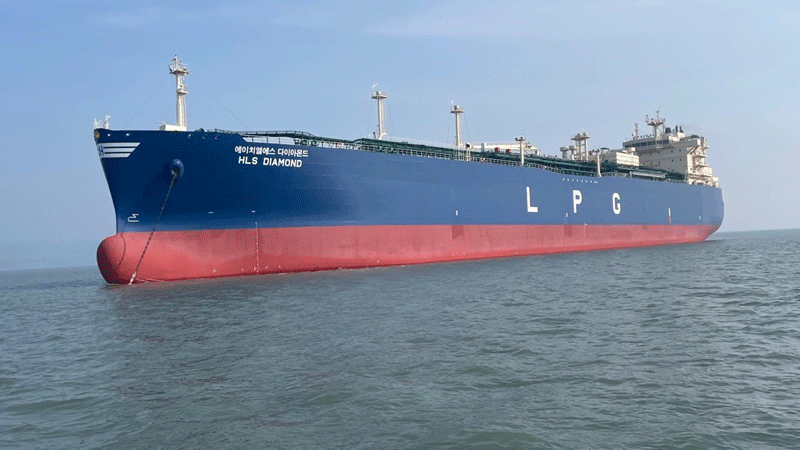 Hyundai LNG Shipping announced on March 21 that it has delivered all three VLGCs ordered to Hyundai Samho Heavy Industries in April 2021 with the delivery of the 86,000 CBM very large gas carrier (VLGC) 'HLS Diamond'. The vessels were delivered in January, February, and March 2023, respectively, and will be used in long-term transportation contracts with E1 to transport LPG around the world.
The three vessels, named "HLS Blue Sapphire," "HLS Citrine," and "HLS Diamond," are equipped with dual-fuel propulsion engines that can use both LPG and very low sulphur fuel oil as fuel, making them eco-friendly vessels that comply with the International Maritime Organization's greenhouse gas regulations.
Hyundai LNG Shipping is scheduled to take delivery of two additional VLGCs this year. Scheduled for delivery in June and September, respectively, the VLGCs will be larger in size at 91,000 CBM and will be equipped with dual fuel engines, making them more economical and eco-friendly. With the delivery of five VLGCs this year alone, Hyundai LNG Shipping will operate a total of six VLGCs, making it the third largest LPGC operator in Korea after KSS Shipping and SK Shipping.
As Korea's No. 1 LNGC operator, Hyundai LNG Shipping has high expertise in LNG transportation and is expanding its capabilities to LPG transportation. In January 2023, Hyundai LNG Shipping won the bid to operate an LNG bunkering vessel for Korea LNG Bunkering (KOLB), and is preparing to enter the LNG bunkering market after gas transportation. (The LNG bunkering vessel is scheduled to start operation in April 2023.) With this, the company is further accelerating its efforts to consolidate its position as the world's only specialized liquefied gas carrier.