Eurowings takes up further connections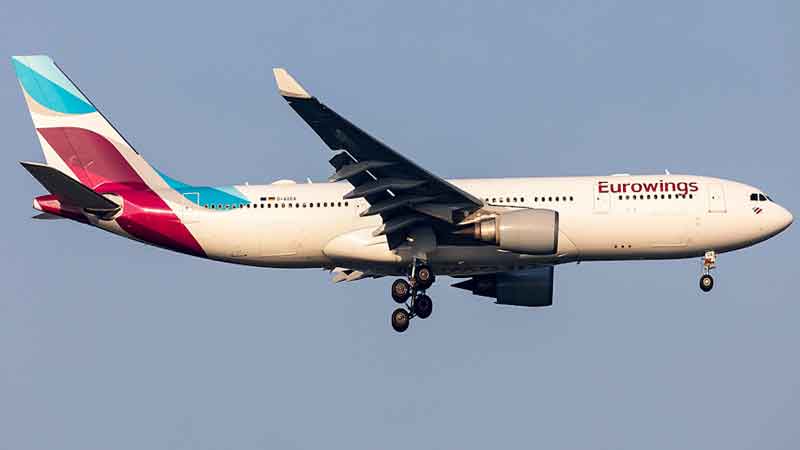 Against the background of the corona crisis, Eurowings continues to ensure its basic service at the airports of Düsseldorf, Hamburg, Cologne/Bonn and Stuttgart: a basic flight programme enables important domestic German connections as well as flights to selected destinations in Europe. Eurowings has now extended its flight schedule and adds additional connections as of May 2020. One focus will be on destinations in the Mediterranean region. For the first time, the island of Mallorca will again be served from several German locations. Eurowings customers can now flexibly book and rebook all routes at eurowings.com or via the Eurowings customer app and satisfy their desire to travel: the airline has reduced the price of over 30 attractive holiday destinations by up to 25% and is also offering over 160 reduced flights in its 2020/21 winter flight schedule.
Eurowings destinations from Düsseldorf
From Düsseldorf, Eurowings flies up to nine times a week to Hamburg and Berlin, up to six times a week to Vienna, Zurich and London and up to four times a week to Milan, Salzburg - Eurowings is the first airline to take off again from Salzburg - and Sylt. The destinations Barcelona and Manchester are offered up to three times a week. Eurowings takes off twice a week to Budapest, Catania, Ibiza, Naples, Olbia, Prague, Rome and Thessaloniki from the largest airport in North Rhine-Westphalia. Flights to Heraklion are offered once a week. The Balearic island of Mallorca is connected up to seven times a week.
Eurowings destinations from Cologne/Bonn
From Cologne/Bonn, Eurowings offers up to six weekly flights each to Berlin, Hamburg and Munich and flies up to three times a week to Edinburgh. Twice a week each to Lisbon, Kavala and Zagreb and once a week to Bastia. Eurowings flies to Mallorca up to seven times a week.
Eurowings destinations from Hamburg
From Hamburg Eurowings offers daily connections to Mallorca. Flights to Cologne/Bonn and Stuttgart are offered six times a week, while Eurowings flies to Vienna four times a week. There are up to nine weekly connections to Düsseldorf from Hamburg.
Eurowings destinations from Stuttgart
From Stuttgart, Eurowings flies four times a week to Berlin and six times a week to Hamburg. The airline offers up to seven weekly connections to Mallorca.
Eurowings destinations from Munich
Eurowings currently flies from Munich six times a week to Cologne/Bonn and the Balearic island of Mallorca.