EPS and China Power sign strategic Framework Cooperation Agreement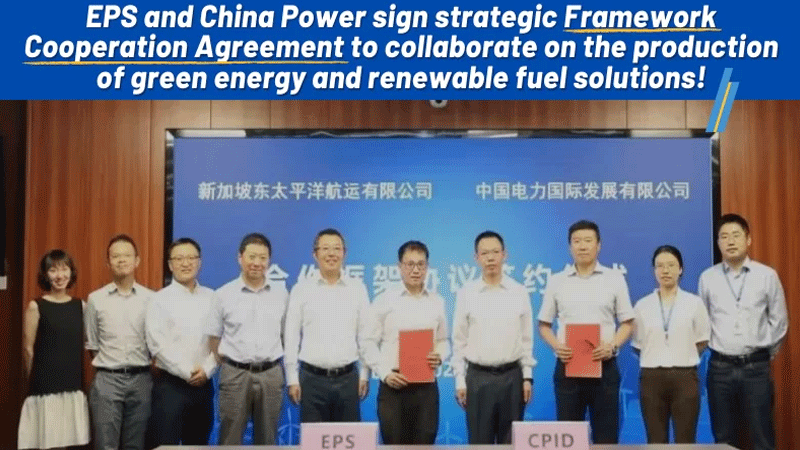 Eastern Pacific Shipping Pte. Ltd.(EPS), and China Power International Development Limited signed a Framework Cooperation Agreement (FCA) to collaborate on the production of green energy and renewable fuel solutions. This partnership marks an important milestone in pursuing a cleaner, more sustainable future for the maritime and power generation industries.
Under the FCA, EPS and China Power, tapping on their expertise in green energy production, storage, and transportation, will cooperate to advance the development and adoption of energy solutions for the maritime industry, including green ammonia and green methanol. Both companies recognise the pressing need to transition towards low-carbon alternatives, and this collaboration will enable them to leverage their respective strengths to accelerate progress in this vital area.
Representing EPS at the signing was Commercial Director Mr. Tay Gak Yong, who expressed his gratitude to China Power and stated, "The signing is a historic starting point that will strengthen the communication and strategic cooperation between our two organisations. Our framework agreement will lay the groundwork for expanding joint efforts towards market development to promote the adoption of sustainable energy solutions. By leveraging our combined expertise, we aim to unlock new opportunities, drive innovation, and deliver tangible solutions that address the pressing global challenges of maritime decarbonisation and sustainability. EPS looks forward to working with China Power to develop mutually synergistic solutions that will ultimately benefit the entire maritime industry."
The FCA comes at a time when the impetus for alternative marine fuel and power generation solutions are at an all time high. Various government mandates and ambitious corporate social responsibility agendas have made it clear that sustainability efforts must be accelerated. The FCA aims to provide both industries with viable and scalable solutions that will aide in global decarbonisation and environmental preservation.
Also in attendance to commemorate the signing were Mr. Gao Ping, President of China Power and Deputy Party Committee Secretary ; Mr. Lin Qing Shan, Deputy General Manager of Jiangnan Shipbuilding (Group) Co., Ltd.; Mr Wang Jun Jie, Deputy General Manager of China Power; Mr Guo Cong, Adviser, China Shipbuilding Trading Co., Ltd.; Ms Liu Yuan Qin, Senior Manager of China Power; Mr. Dan Kwek, Manager Sales and Purchase of EPS; and Mr. Andy Wang, Chartering Manager, Dry Bulk of EPS.