Cosco Shipping Development took delivery of a new 62,000-dwt ship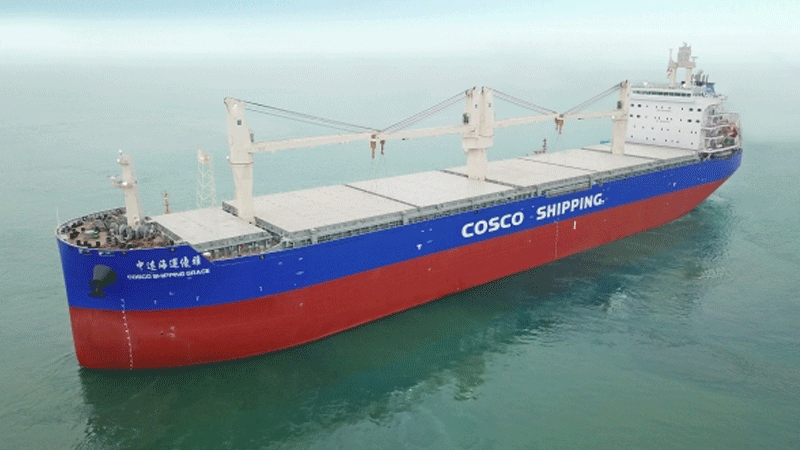 The 62,000 DWT vessel of COSCO SHIPPING Development named "COSCO SHIPPING Grace" was delivered in Shanghai, Dalian and Guangzhou by "cloud handover". At the ceremony, Mr. Ming Dong, the deputy general manager of COSCO SHIPPING Development, Mr. Weng Jiqiang and Mr. Dong Yuhang, the deputy general managers of COSCO SHIPPING Specialized Carriers and Mr. Zhao Zengshan, the deputy general manager of COSCO SHIPPING Heavy Industry jointly watched the on-live unveiling ceremony of the new vessel at the shipyard of COSCO SHIPPING Heavy Industry in Dalian and each of them gave speeches. Ms. Gao Yue, the manager of the Finance Department of COSCO SHIPPING Heavy Industry (Dalian), was the godmother who named the vessel "COSCO SHIPPING Grace".
"COSCO SHIPPING Grace" is the third new energy-saving vessel among the ten 62,000 DWT multi-purpose vessels contracted to construct by COSCO SHIPPING Development and COSCO SHIPPING Heavy Industry (Dalian), which will be leased to COSCO SHIPPING Specialized Carriers under the operating lease after delivery and will be put into operation on the pan-pacific route of COSCO SHIPPING Specialized Carriers. The vessel will contribute "shipping power" to global interconnection with its competitive advantages and stable operating efficiency.
The length overall, breadth, depth, and scantling draught of the vessel are 201.8 meters, 32.26 meters, 19.3 meters and 13.3 meters, respectively, and the speed is 13.5 knots, the endurance mileage is 22,000 nautical miles, the total capacity is 62,000 tons, and the cargo tank capacity is 72,500 cubic meters, and the main engine meets Tier III emission requirements and has a green passport. The design of the hatch cover can be divided into the hydraulic folding type and the back loading type, both very suitable for loading pulp.
The series of vessels has optimized seven systems starting from the Grace vessel, including: optimizing by replacement of equipment, such as the main engine and dehumidifier; adding new medium pressure shore power system, monitoring system and cargo tank constant pressure filling system, and strengthening B-class ice area; adding new fuel tanks to increase the curding range; and strengthening and optimizing the bottom plate in the cargo tank.
The successful delivery of the vessel is an example of " combining industry with finance and achieving synergistic development" among COSCO SHIPPING Development, COSCO SHIPPING Specialized Carriers and COSCO SHIPPING Heavy Industry, which realizes closer connection among ship owners, charterers and shipyards; it is also an representation of deepening the operation of shipping industry chain, facilitate synergy between the upstream and downstream business within the group and promoting the development of the main business of shipping industry. In the future, COSCO SHIPPING Development will continue to adhere to the original aspiration of shipping finance and devote itself to building a superior industrial finance operator with the features of COSCO SHIPPING.