COSCO launches two new dedicated trains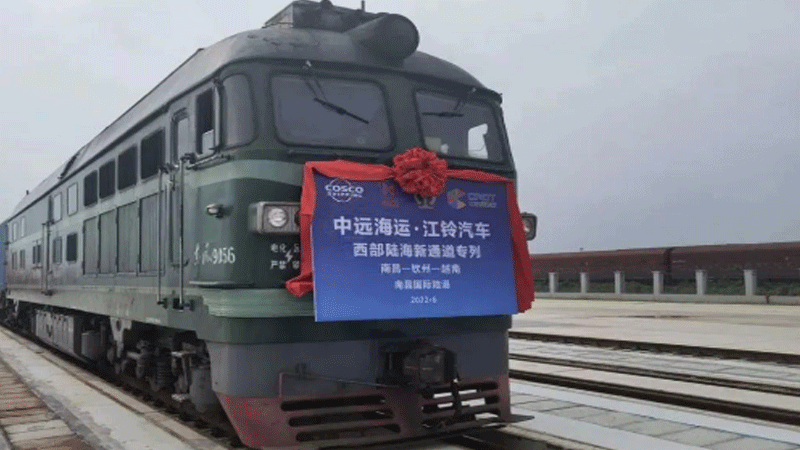 With the implementation of the Regional Comprehensive Economic Partnership Agreement (RCEP), COSCO SHIPPING has been adhering to the concept of customer-centric service to align with the RCEP and facilitate the development of the new western land-sea trade corridor by launching the "Nanchang-Qinzhou-Vietnam" and "Guiyang-Qinzhou" dedicated trains. It aims to build unimpeded industrial chains and supply chains, help small and medium-sized enterprises reduce costs, increase efficiency and enhance market competitiveness, and contribute to the stability of foreign trade exports.
The "Nanchang-Qinzhou-Vietnam" dedicated train, jointly launched by COSCO SHIPPING and JMC and fully loaded with auto parts, departed from Nanchang International Land Port on June 13 and arrived at Qinzhou Port on June 16. The cargoes would then reach Haiphong Port of Vietnam within two days by sea. This is the first dedicated train launched by COSCO SHIPPING in Jiangxi Province for the new western land-sea trade corridor. It is also another innovative step taken by COSCO SHIPPING Lines Wuhan to align with RCEP, ensure unimpeded logistics channels, stabilize foreign trade, and serve major enterprises in Jiangxi Province.
Recently, a dedicated train loaded with 60 TEU of bauxite (48 TEU for domestic trade and 12 TEU for foreign trade) left Guiyang Dulaying Station for Qinzhou, marking the successful launch of the dedicated train service for domestic and foreign trade by COSCO SHIPPING in Guiyang.