CMA CGM to enhance service connecting Far East & Kenya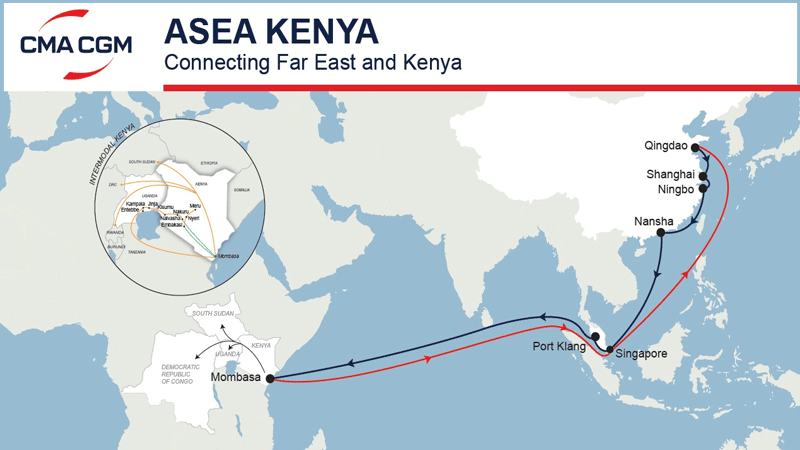 In a continued effort to provide reliable and best quality of service, CMA CGM is pleased to announce an update on their ASEA KENYA service.
Starting with m/v "EMMANUEL P" voy. 04IFVW1MA, ETA Qingdao on October 9th, 2023, ASEA KENYA will offer a direct weekly call at Qingdao and a faster transit time from North China to Kenya.
ASEA KENYA new features will be the following:
- The new rotation will be: Qingdao – Shanghai – Ningbo – Nansha – Singapore – Port Klang – Mombasa – Singapore – Qingdao.
- Mombasa will be served from Qingdao in 27 days (2 days faster), from Shanghai in 24 days, and Nansha in 20 days.
- Containers currently in transshipment at Colombo towards Mogadishu, Nacala and Comoros will be routed via Mombasa and loaded on their NOURA service, which will add Mombasa to its rotation before Mogadishu.
- Mogadishu, Nacala and Comoros will now be offered 9 days faster from Asia.
- Mayotte will continue to be served in Transshipment at Mombasa on their JEDDEX service. Zanzibar and Tanga will continue to be offered via Mombasa.