CEVA commits to low-carbon electricity by 2025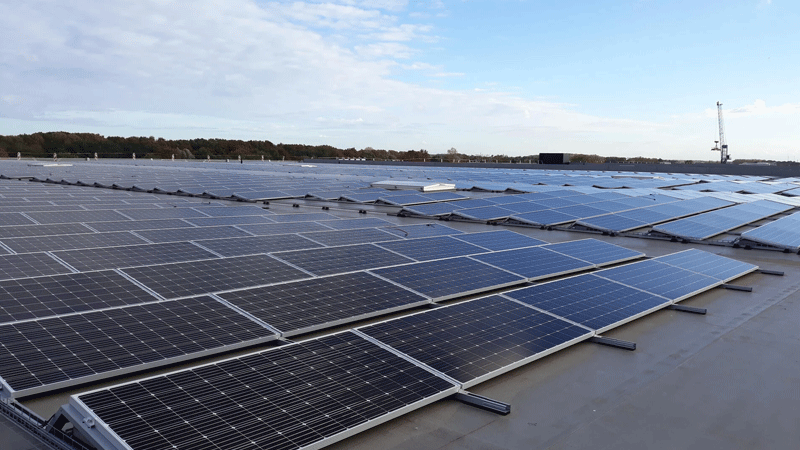 CEVA Logistics is transitioning all its contract logistics and freight warehouses to low-carbon electricity by 2025. The commitment will rely on a combination of purchasing low-carbon electricity (renewable and nuclear) from local utility providers and increasing its own production of electricity using rooftop solar panels, which the company will triple by the end of 2025. In addition, CEVA expects to reach 100 percent LED lighting in its warehousing facilities by the end of 2023.
Efficiency, emissions gains through lighting, equipment
CEVA Logistics finished 2022 with LED lighting in approximately 80 percent of its contract logistics warehouses. The company expects to reach 100 percent by the end of 2023 as part of its multi-million-dollar energy efficiency investments. In addition to the lighting initiative, the company is implementing a range of heating and cooling projects to reduce its energy consumption.
CEVA is also increasing the size of its lithium-ion material handling equipment (MHE) fleet. The global logistics provider expects its global fleet to reach a 40 percent level in 2023 of eco-MHE (lithium-ion and gel battery units). Beyond the obvious emissions savings in move away from diesel- or LPG-powered combustion MHE, the company is also seeing an average 16 percent emissions reduction during the charging process when switching from a lead-acid battery MHE to more eco-friendly lithium-ion batteries.
Commitment to energy transition in logistics
Through a joint investment with real estate partners of approximately $180 million, CEVA plans to triple the surface area of solar panels covering the roofs of its contract logistics warehouses around the world. By the end of 2025, the company expects to have approximately 1.8 million square meters of solar panels installed at its facilities—an area 2.25 times the size of France's famed Palace of Versailles. With this coverage area, the company estimates it will generate approximately 135,000 MWH per year.
CEVA leverages the strength of its global network by applying lessons learned between operations in different countries and continents. In the U.K., CEVA is already operating on 100 percent low-carbon electricity, and operations in Benelux produce more electricity than they consume. As newer markets expand, renewable and low-carbon electricity will play a critical role in supporting those operations. CEVA opened a new zero-emission warehouse in Bogota, Colombia, in 2022.
As part of the CMA CGM Group, CEVA is strongly committed to protecting the environment. The Group is investing in research and development to help the emergence of low-carbon energy sources and technologies to reduce the impact of transport and logistics on the planet. The CMA CGM Group aims at being net zero by 2050.
Mathieu Friedberg, CEO, CEVA Logistics, said: "The global logistics industry must find better ways to operate and ultimately reduce its impact on the planet from carbon emissions and energy consumption. These investments are the right thing to do, and they also make good business sense. We will continue acting to build a more sustainable model through initiatives like these in our contract logistics operations and across our product lines in air, ocean, ground and finished vehicles."
Swissport wins ITA Airways as new customer at Zurich and Geneva airports
ITA Airways has contracted Swissport to provide ground services at Zurich and Geneva airports from March 31, 2023. Following the takeover of ITA Airways' hub handling operations in Rome-Fiumicino in 2022, this represents a further important step in the cooperation between ITA Airways and Swissport.
Swissport has been selected by ITA Airways to provide ground services at Zurich and Geneva airports for three years, effective 31 March 2023. The newly concluded contract covers passenger services (check-in, boarding), baggage and aircraft handling (transport of baggage, aircraft loading and unloading, push-back, de-icing) in Zurich and Geneva.
Swissport has assumed hub handling of ITA Airways at Rome-Fiumicino and Milan-Linate airports starting from summer 2022. The close cooperation at the hub of the Italian airline and the provision of high-quality ground services were among the decisive factors for the conclusion of the contract in Zurich and Geneva.
"We are delighted to count ITA Airways along with its significant network among our new customers in Switzerland. This contract is an important addition to Swissport's customer portfolio in Switzerland and a demonstration of the airline's confidence in our services. From the very beginning, Swissport has shown in Italy its expertise in hub handling and its ability to quickly and reliably start and maintain smooth operations despite high passenger volumes," says Bruno Stefani, SVP & Managing Director DACH, Italy & France.
Swissport will handle ITA Airways A319, A320, A222/223 flights in Zurich and Embraer 75/90, A319 and A320 aircraft in Geneva. The Italian airline will operate around 700 flights a year from Zurich and over 1,000 flights from Geneva to various destinations in Italy.