APM Terminals MedPort Tangier to reduce CO2 emissions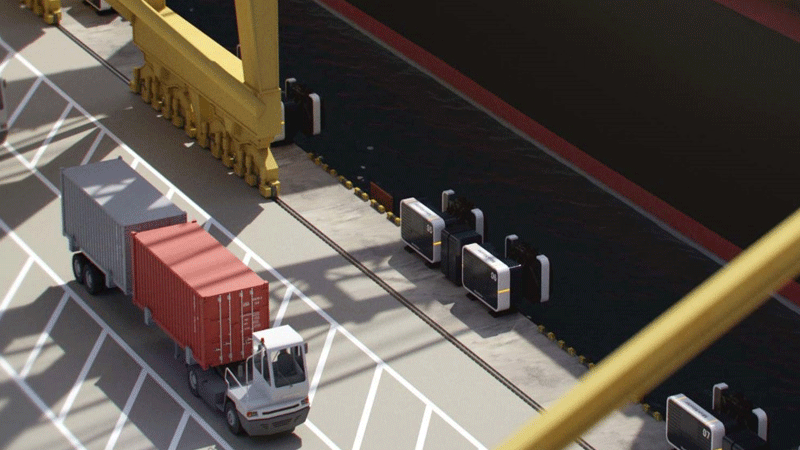 APM Terminals global commitment to achieving a 70% reduction in absolute emissions by 2030 and Net Zero emissions by 2040 is shaping investment in the expansion of APM Terminals MedPort Tangier. The expansion phases will employ fully electric or hybrid terminal equipment, automated mooring technology, and potential shore power.

Following its inauguration in 2019, APM Terminals MedPort Tangier, an automated transhipment terminal, became one of the most technologically advanced terminals in Africa.
The terminal has two expansion phases planned. The second phase of development commenced in April 2021 and is currently on schedule to be fully operational in Q1 2024. The third phase is planned to be operational in Q1 2025. In total, the investment will increase capacity by more than 2.1 million TEU, cover 35.5 Ha and increase the quay length from 1200m to 2000m.
Electric and hybrid equipment
New equipment will include 8 electric ship-to-shore cranes and 28 electric automated rail mounted gantry cranes. A fleet of 23 new semi-automated hybrid shuttle carriers from Kalmar and its hybrid AutoStrad solution will ensure high productivity and further support reduced CO2 emissions.
The terminal will also install an innovative auto-mooring system, supplied by Cavotec, that will integrate its latest automated vacuum pads along the extended part of the quay and improve safety and operational efficiency. This will reduce the time taken by vessels to moor and release, with idle times estimated to be reduced to around 15 minutes at both arrival and departure. This will save a total of around 1 hour of idle time.
Auto-mooring to reduce call times
The system will reduce time spent by tugs in port – reducing emissions – and faster turnaround means each vessel can cruise more slowly and efficiently to its next port of call. According to Cavotec, the system can reduce direct emissions during ship berthing by more than 90% due to reduced use of tugs and ship engines.
Once ships are moored, the system's active hydraulics significantly reduce vessel motion, thereby positively impacting the terminals already exceptional crane moves per hour. APM Terminals MedPort Tangier consistently achieved productivity levels above 30 crane moves per hour in 2021 and is on target to increase this to 34 in 2022. As a result of improved efficiency, average vessel call times are expected to be reduced by an average of 2 hours (in addition to the saving of 1 hour due to faster mooring and release times).
Shore power
Together with the port authority, the company is also conducting a feasibility study into providing shore power. When ships use shore power, they connect to landside electricity for their power needs at berth – lights, pumps, communications, refrigeration – instead of running diesel-fuelled auxiliary on-board engines. According to the US EPA, for vessels connected to shore power, under the right conditions, overall pollutant emissions can be reduced by up to 98%.
"We are constantly on the lookout for new ways to increase operational and energy efficiencies and reduce the climate impacts of our terminals," concludes Sahar Rashidbeigi, Head of Decarbonisation at APM Terminals. "Pushing boundaries and exploring new technology will help us achieve not only our own net-zero-emissions goals but also support our customers and the broader maritime industry in decarbonizing their respective operations."