Air Tahiti Nui extends ULD management partnership with Unilode until 2029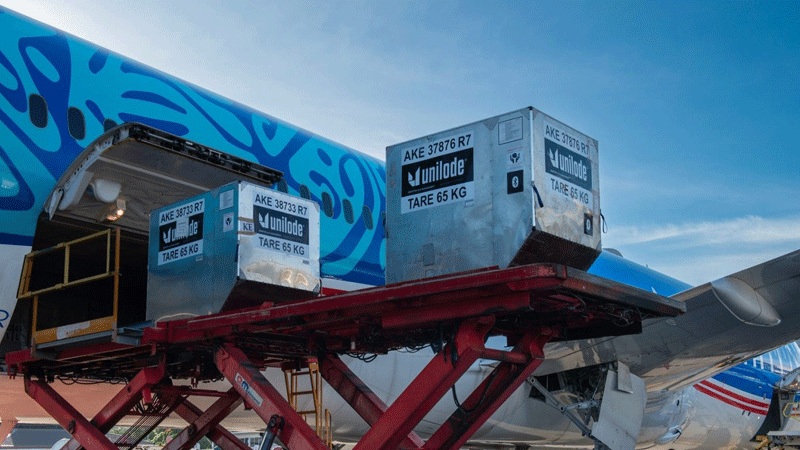 Unilode Aviation Solutions, the market leader in outsourced unit load device (ULD) management, repair and digital services, and Air Tahiti Nui, the flag carrier of French Polynesia, announce the extension of their ULD management partnership until 2029.
Air Tahiti Nui operates four Boeing 787-9 aircraft, serving destinations in France, New Zealand and the USA from its hub in Tahiti. Unilode has been providing full-service ULD management solutions to Air Tahiti Nui since 2015 and transitioned the airline's ULD fleet to a more durable, efficient and lightweight fleet of digitised ULDs. Air Tahiti benefits from Unilode's ULD pooling synergies, digital solutions and maintenance and repair network that overlaps at all of its overseas destinations.
Raymond Topin, Air Tahiti Nui Executive Vice President Operation, said: "In the past eight years of our ULD management partnership, Unilode has proven its continuous support, customer-centric service delivery and the value of its ULD management solutions. We appreciate the benefits of ULD pooling, especially the repositioning, synergy and fuel saving opportunities, and the availability of repair stations in our network. As Air Tahiti Nui's business has regained momentum and we expanded our horizons with new routes, we have been able to focus on our business without worrying about ULDs and are pleased with the extension of our ULD management partnership with Unilode."
Ross Marino, Unilode Chief Executive Officer, said: "We place great value on customer retention, so we are delighted to extend our partnership with Air Tahiti Nui. Unilode's pooling benefits and our dedicated customer success staff that provide 24/7 management support to Air Tahiti Nui has played a key role in enabling the renewal of our agreement. We are glad to have been able to contribute to Air Tahiti Nui's success, help them reach their sustainability targets and strengthen their market leader position in Polynesia. We look forward to continuing our partnership with Air Tahiti Nui for many more years to come and seeing continued growth and success."